Beachcomber's Room
Lake Geneva,Wisconsin tourism and travel conjures up visions of a "ma and pa" motel in Lake Geneva WI with cheese, cherries and good old Friday fish fries!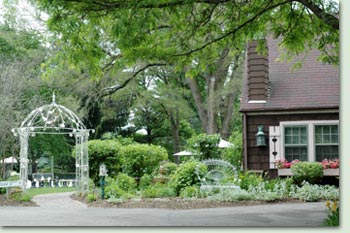 You'll discover that a trip to our beautiful capitol or a visit to one of our many state parks or historical sites is also a must when you visit. And, with lakes a plenty, your Wisconsin travel isn't complete without a walk along one of our beaches or a stay in our Beachcomber Room at Lazy Cloud!
Lake Geneva Wisconsin tourism and travel will lure you to the Beachcomber!
Our Beachcomber Room provides all the same amenities as our suites, except that it is smaller. It is done with Wisconsin hardwood floors and beach theme throughout.
As you travel through Wisconsin, you will pass many of our stone quarries, so you'll be impressed with our corner fireplace done in Wisconsin limestone. This beautiful fireplace can be seen from anywhere in the room!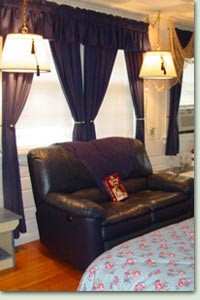 The double whirlpool has navy blue tile around it with mirrors reflecting natural light and leaves you with the impression that your Wisconsin travel has truly taken you to the beach. "High tide" has scattered seashells through-out the room!
The comfortable navy blue leather loveseat is also a double recliner.
Inside the canopy of the queen size bed, you'll discover mini white lights suggesting stars twinkling down at you from the heavens!
Check to see what we are serving for breakfast and what other amenities are provided.  Also please review our deposit, cancellation, refund and other policies.
Call our Lake Geneva Bed and Breakfast at 262-275-3322 to book this room now.
Our Inn and Bed & Breakfast is like no other resort or motel in Lake Geneva!