Got Chocolate?  If you don't and are jonesing for some,  then plan on heading to Burlington,WI over the Memorial Day holiday.  Memorial Day Weekend in Burlington, WI means three things, CHOCOLATE, CHOCOLATE, AND EVEN MORE CHOCOLATE!
Every year the Burlington ChocolateFest brings in crowds of 35,000+ visitors to the area to experience a weekend of fun, games, rides, cooking demonstrations and of course, CHOCOLATE!  This volunteer run festival has been going strong for over 25 years, as it raises money for over 65 local and national charities.
One of the wonderful things about ChocolateFest is that it is not just another festival.  All of the money generated from this event is given back to the community via local charities and civic groups.  What that means is that when you come and visit, and just have to have one more piece of chocolate or participate in an event, you are helping the local community.   ChocolateFest is run exclusively by trained (and experienced) volunteers, which ensures that the event runs both professionally as well as smoothly.
Here are just a few of the events you can participate in:
• Chris Jones – Hypnotist & Magician
• Chocolate Eating Contests
• Chef Demonstrations
• Granpa Cratchet
• Commercial Expo Tent
• Petting Zoo
• Duck Races
• All American Lumberjack Show
In addition to the above,  there are 4 stages of various entertainment, the largest carnival company in the nation will be hosting a daily carnival, plenty of food and refreshments, a parade and, of course, fireworks.   For a complete schedule of activities, visit the ChocolateFest site at www.chocolatefest.com
Hours for the festival are:
Friday  May 23rd 4 p.m. – 9 p.m.
Saturday  May 24th 10 a.m.-9 p.m.
Sunday  May 25th 10 a.m.- 9 p.m.
Monday  May 26th 11 a.m.-7 p.m.
Now after spending the whole day at the festival, and after eating ALL that chocolate, who wants to drive home?????  Not you!   Lazy Cloud is an easy drive from Burlington.  What better way to end your full day, than by relaxing in your double whirlpool, while you sip champagne and nibble on, (what else of course?) chocolate covered strawberries.  Give us a call at 262-275-3322 to book your suite and turn a one day trip into an adventurous romantic getaway.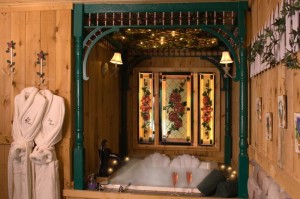 Lazy Cloud offers premier Lake Geneva lodging for couples looking for a romantic getaway.  We are one of the few Lake Geneva hotels with jacuzzi in room for two. Our bed and breakfast in Lake Geneva, WI provides wonderful amenities with whirlpools for two that have a view of the fireplace in every suite and room. Because we offer this, we are a great place for honeymoon getaways.    We are located in southeastern Wisconsin – only 90 minutes from Chicago and an hour from Milwaukee & Madison.
Related posts: