Pecans are apparently so popular that they are celebrated 2 months in a row!
Pecan Day – Always March 25th
National Pecan Day – Always April 14th
Pecan Day is a rather nutty day. Its a day to celebrate and enjoy popular, tasty pecans. Apparently, someone thought that it was such a great nut, that they created two days to celebrate Pecans. One in March, and the other in April. A little nutty perhaps, but true.  Did you know that the only nut tree native to North America is  the Pecan Tree???
We have posted a couple of great pecan recipes below, however our favorite way to eat pecans  is to eat the homemade pecan sticky buns that we make daily for our guests at the Bed and Breakfast.  And from the comments of the guests who try them, we can safely say that they agree with  us!
Classic Pecan Pie(From the Karo Syrup folks)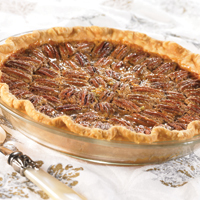 Prep Time:  5 minutes
Bake Time:  60 to 70 minutes
Chill Time:  (cool time) 2 hours
Yield:  8 servings
1 cup Karo® Light OR Dark Corn Syrup
3 eggs
1 cup sugar
2 tablespoons butter, melted
1 teaspoon Spice Islands® Pure Vanilla Extract
1-1/2 cups (6 ounces) pecans
1 (9-inch) unbaked or frozen** deep-dish pie crust
Preheat oven to 350°F.
Mix corn syrup, eggs, sugar, butter and vanilla using a spoon. Stir in pecans. Pour filling into pie crust.
Bake on center rack of oven for 60 to 70 minutes (see tips for doneness, below). Cool for 2 hours on wire rack before serving.
**To use prepared frozen pie crust: Place cookie sheet in oven and preheat oven as directed. Pour filling into frozen crust and bake on preheated cookie sheet.
RECIPE TIPS: Pie is done when center reaches 200°F. Tap center surface of pie lightly – it should spring back when done. For easy clean up, spray pie pan with cooking spray before placing pie crust in pan. If pie crust is overbrowning, cover edges with foil.
NUTRITION TIP: To reduce calories, substitute new Karo® Lite Syrup for the Karo® Light or Dark Corn Syrup.
High Altitude Adjustments: Reduce sugar to 2/3 cup and increase butter to 3 tablespoons. Reduce oven temperature to 325°F.
VARIATION: coarsely chopped walnuts may be substituted for pecans to make a walnut pie.
******************************************
Sugar Coated Pecans (From allrecipes.com)
INGREDIENTS:
1 egg white
1 tablespoon water
1 pound pecan halves
1 cup white sugar
3/4 teaspoon salt
1/2 teaspoon ground cinnamon
DIRECTIONS:
1.
Preheat oven to 250 degrees F (120 degrees C). Grease one baking sheet.
2.
In a mixing bowl, whip together the egg white and water until frothy. In a separate bowl, mix together sugar, salt, and cinnamon.
3.
Add pecans to egg whites, stir to coat the nuts evenly. Remove the nuts, and toss them in the sugar mixture until coated. Spread the nuts out on the prepared baking sheet.
4.
Bake at 250 degrees F (120 degrees C) for 1 hour. Stir every 15 minutes.

*******************************************************
So there you have a few recipes to celebrate Pecan Day and National Pecan Day with…..however we think our suggestion from earlier in the post is the best!   Give us a call today at 262-275-3322  to book a suite at the B&B; and try our Homemade Pecan Sticky Buns!  It doesn't get simpler (or tastier) than that!
Lazy Cloud offers premier Lake Geneva lodging for romantic getaways in Wisconsin. We cater to couples and our B & B and small hotel provide wonderful amenities with luxurious jacuzzis for two and fireplaces in every suite and room.  We are located in southeastern Wisconsin – only 90 minutes from Chicago and an hour from Milwaukee & Madison.
Related posts: