The Elegant Farmer will be hosting  its 4th annual Wisconsin Blue Ribbon Cheese Fest June 28 and 29, 11 a.m.-3 p.m. featuring more than 20 award-winning Wisconsin cheeses, tastings and information. 
If you are a true turophile, who happens to have  a passion for riding the rails, then you MUST clear your calendar for June 28th, 2014 and make plans to visit The Elegant Farmer in Mukwonago.  Why you ask….
Because on that day, you can taste the best the state has to offer including blue ribbon cow, sheep, goat and mixed milk cheeses. Also author, Jeanette Hurt, will be  in the market on June 28, 11:30-2:00 to discuss  her book The Cheese of Wisconsin: A Culinary Travel Guide.
After sampling some cheeses and chatting with an author, it is time to move on to part 2 of the day, and you will do that when you climb aboard the Wisconsin Cheesemakers' and Wine Train.  The train departs from the Elegant Farmer at 1:00 p.m. on the 28th of June, for a 2 hour round trip.  You will ride the rails in air-conditioned comfort on board the the beautifully restored East Troy Electric Railroad's Dinner Car, which features an Art Deco vintage interior, along with elegant white tablecloth covered tables.
As you travel through the picturesque woods and charming towns along your trip, you will hear from three of  Wisconsin's state's award winning cheesemakers.
The award-winning cheesemakers  who will be sharing their stories and sampling their cheeses on the train this year are: Master Cheesemaker Michael Matucheski, Sartori Cheese, Plymouth, Wis. achieving more than 100 cheese competition awards since Sartori's founding in 1939, this Italian-styled 4th generation creamery features outstanding Bellavitano, Asiago, Fontina, Montamoré and more; Award-Winning Cheesemaker Marieke Penterman, Holland's Family Cheese, Thorp, Wis. showcasing handcrafted traditional Dutch Goudas which recently won the 2013 Grand Champion of the U.S. Championship Cheese Contest for Marieke Gouda Mature and Artisan Cheesemaker Diana Murphy, Cross Plains, Wis. specializing in farmstead fresh small-batch cheeses made from goat's milk and cow's milk aged mozzarella.
The event also features wines from Mukwonago's Pam's Fine Wines.  Wine expert, Pam Turner will be on hand to talk about and sample a selection of fine wines paired with the various cheeses.
For more information on this event, please visit  The Elegant Farmer website or give them a call at 262-363-6771.
After a day of sampling some of the state's finest cheeses, traveling through picturesque towns, sipping on wine, isn't it time to relax a bit in a bubble bath filled double whirlpool, while you sip on the wine and nibble on the cheese you purchased during the day?  Give us a call at 262-275-3322 to book your suite and then clear your to do list and plan on being in the Lake Geneva area on the weekend of June 28th!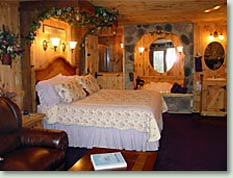 Lazy Cloud offers premier Lake Geneva lodging for couples looking for a romantic getaway.  We are one of the few Lake Geneva hotels with jacuzzi in room for two. Our bed and breakfast in Lake Geneva, WI provides wonderful amenities with whirlpools for two that have a view of the fireplace in every suite and room. Because we offer this, we are a great place for Wisconsin honeymoon getaways.  We are located in southeastern Wisconsin – only 90 minutes from Chicago and an hour from Milwaukee & Madison.
Related posts: