Were you inspired by any of the marriage proposal ideas from our last blog post?  Or are you still waiting to hear about one that is just "perfect" for your relationship?  We have a few more we want to share below; maybe the "right" one is in the ideas listed below!  Remember these ideas come from a book by Cynthia Muchnick….to read more about some of the ideas we have posted on these blogs, be sure and head to her website!
Movie Proposals…..rent a romantic movie, dim the lights, make some popcorn and have a cozy evening together.  Pop the question afterward to make it a true Love Story!
Picnic Proposals….yes a picnic can be quite elegant or it can be be simple.  It is up to you to plan the ultimate picnic……for a great idea though, see if you can figure a way to get the diamond ring (carat) into the carrot cake dessert!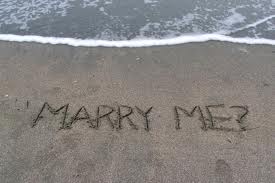 Romantic Proposals….Perhaps a suit of armor? Perhaps while away on a romantic getaway? This is another proposal where you are only limited by your romantic imagination!
Underwater Proposals….do you both love to swim, or scuba dive? If so, get creative and pop the question down below!  There are many ways to do this, from hiding the ring in an oyster shell, to using your  dive slate to write the words "will you marry me" on it and showing it to her!
Vacation Proposals….Are you planning a vacation together soon? If so, and you know the time is right to propose, incorporate the setting of the vacation into the proposal.  This will definitely be a vacation you won't soon forget!
Last proposal idea is for a Zany Proposal….Are you a bit silly? Is she a bit quirky? If so, let your imagination run supreme and come up with a zany, off the wall wedding proposal!
If you want your proposal to be a bit "different", we think that these past couple of blogs will give you some great ideas!  However if you are not sure if you have the time or talent to pull these off, and just wish that a lot of the background work could be done for you, then look at some of our marriage proposal packages that we offer.  Choose the one that you find the most fitting,  and then give us a call at 262-275-3322 and let us work with you to create the perfect proposal!
Lazy Cloud offers a premier Lake Geneva Bed and Breakfast for romantic getaways in Wisconsin. We cater couples, and our B & B and small hotel provide wonderful amenities with luxurious jacuzzis for two and fireplaces in every suite.  We are located in southeastern Wisconsin – only 90 minutes from Chicago and an hour from Milwaukee & Madison.
Related posts: