There is nothing quite like a day at the beach is there?  Especially after our grueling winter! 
There is a special kind of relaxation that comes from the sun, sand and the waves.    And even if this summer has been a bit cooler than normal, it is still warm enough to head out for the day to a beach in the Lake Geneva area.
Below we have listed a few of our favorite local beaches, along with their hours and schedules of activities.
Riviera Beach
This is a beach you simply have to spend some time at if you are visiting the Lake Geneva area.   It is located at 626 Geneva Street and is right next to the Riviera and the boat docks.  Visitors and locals alike are drawn to this well maintained beach.  The sand is cleaned virtually every day and the water is tested weekly.  The beach is open from 9:30 a.m. through 6 p.m. daily through Labor Day.
Lifeguards are on duty during regular hours and there is a fee to gain access to the beach.
Big Foot Beach State Park
If in addition to sun-bathing and swimming, you want to add a bit of hiking to your day, then Big Foot is the place to go.   You will find that this state park features picnic areas, hiking trails, campsites, a prairie area and a fishing pier.
Located only a few miles from the outskirts of downtown Lake Geneva, this state park is definitely worth a look see.  The park is open daily from 6 a.m. through 11 p.m. through Labor Day.  There is a park entry fee per vehicle; however that fee covers all the activities that Big Foot Beach State Park has to offer.
Fontana Beach
The Village of Fontana Beach is located off Fontana Boulevard. This large sandy beach offers a wide grassy area and changing rooms.  Lifeguards are on duty through Labor Day, during the hours of 9:30 a.m. until 6:00 p.m.
You can swim after 6:00 pm however you do so at your own risk.
Daily beach passes and concessions are available at the beach house from 9:00 am until 9:00 pm.
Williams Bay Beach
The Williams Bay Beach is located east of Edgewater Park, in the heart of downtown Williams Bay. There is parking nearby and the beach has shaded grass areas. Lifeguards are on duty from 9am to 5pm and there is a bathhouse with showers available. Floating devices are permitted as well as food, but no glass is allowed on the beach. Season passes are available. There is a small playground just outside the public beach and next to the boat launch.
We have just shared 4 of our favorite spots with you, and we are confident that a day spent on any of these beaches, will soothe and relax even the most harried soul.  But why head home after a day at the beach?  Instead, just give us a call at 262-275-3322 to book a suite for you and your sweetie.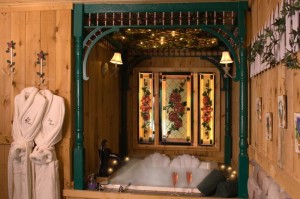 Lazy Cloud offers premier Lake Geneva lodging for couples looking for romantic getaways in Wisconsin.  We are one of the few Lake Geneva hotels with jacuzzi in room for two. Our bed and breakfast in Lake Geneva, WI provides wonderful amenities with whirlpools for two that have a view of the fireplace in every suite and room. Because we offer this, we are a great place for honeymoon getaways.   We are located in southeastern Wisconsin – only 90 minutes from Chicago and an hour from Milwaukee & Madison.
Then, when you are done with sun, sand and surf, you can head back to the privacy of your romantic suite at Lazy Cloud, where  you will find a bottle of sparkling champagne, chocolate covered strawberries and a whirlpool for two!
We think you will agree with us that this would be a great way to end your day at the beach!
Related posts: