Planning a day trip to Burlington, WI??
One of the great things about visiting the Lake Geneva area, is that there is just so much to do here.  Whether you explore Lake Geneva,  or venture down one of our back roads, you are sure to find an undiscovered treasure right around the next corner.   Today we wanted to highlight and focus on of those undiscovered treasures.
Only about  10 minutes from Lazy Cloud Inn, lies the city of Burlington, WI. Burlington's official nickname is Chocolate City USA, and is home to Nestle USA.  Drive through the town on a warm spring or summer day, and chances are good, the aroma of chocolate lingering in the air,  will be your first welcome to the city.
In fact, Burlington celebrates their long term relationship with Nestle USA by hosting  an annual ChocolateFest every year on Memorial Day weekend. ChocolateFest draws visitors from around the country, and each year ChocolateFest grows in popularity. Music, children's activities, a Chocolate Parade and of course CHOCOLATE can all be found at the festival.
In addition to celebrating chocolate,  Burlington is also home to several historical, educational, and entertaining attractions.  The historic Malt House Theater is home to The Haylofters, one of Wisconsin's oldest continuing community theaters.   The Burlington Historical Museum and Pioneer Cabin offers a self guided walking tour of Historic Burlington and has traced the BuR SPUR of Wisconsin of Wisconsin's Underground Railroad.  In addition to these activities, there is also the Chocolate Experience Museum, the Spinning Top Museum and the Logic Puzzle Museum.
Did you know that Burlington, WI is also home of the Liar's Club?   In fact every year they hold the Tall Tales Trail, which is a self guided tour of championship lies that are immortalized on bronze plaques displayed through the downtown area.  The club has received tall tales from as far away as New Zealand and China.
And when it comes to some unique  shopping, you will find that Burlington has the market cornered!  Many of their charming shops are housed in restored 100 year old buildings.  From original crafted jewelry to garden treasures, chances are in your favor that you will find something truly special and unique while visiting here.
After you have done some sight-seeing, and a bit of shopping, chances are good, that you might be hungry, right?  No worries on that front, because Burlington has a wealth of dining options, whether you are looking for a specific restaurant or want to try a bit of the local flavor, you will find it in Burlington.  From Mexican, to Italian, to Irish…you can get it all!  Many of the restaurants feature outside seating as well, which will let you take advantage of dining al fresco on one of our glorious Wisconsin evenings.   Of course if you visit the area on a Friday, you have to take part in a local Wisconsin Favorite! The Fish Fry!
If Burlington, WI is starting to sound like it might make a good day trip, why not turn it into an overnight adventure by giving us a call at 262-275-3322 to book your romantic getaway in Wisconsin.  Then, after spending the day sight-seeing, shopping and eating in Burlington, you both can  return to your suite and relax  in the double whirlpool while sipping your champagne and nibbling on your complimentary chocolate covered strawberries.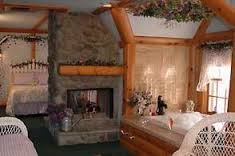 Lazy Cloud offers premier Lake Geneva lodging for couples looking for a romantic getaway.  We are one of the few Lake Geneva hotels with jacuzzi in room for two. Our bed and breakfast in Lake Geneva, WI provides wonderful amenities with whirlpools for two that have a view of the fireplace in every suite and room. Because we offer this, we are a great place for honeymoon getaways.  We are located in southeastern Wisconsin – only 90 minutes from Chicago and an hour from Milwaukee & Madison.
So book your stay at Lazy Cloud and plan your day trip to Burlington now!
Related posts: