Romantic proposals in December are not something that happen infrequently.  Lazy Cloud has had the distinct privilege of being a part of both marriage proposals as well as wedding ceremonies.  With December being  a month that many engagements happen, we thought we would share how Lazy Cloud can help make that engagement truly romantic and special.  This will definitely be a day she will never forget!
Our "On Bended Knee" wedding proposal package  takes the stress out of creating just the right environment for your proposal.  When you book your stay with us and request this package,  we will do the work for you.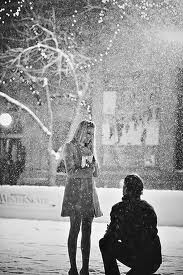 Let us share with you how our "On Bended Knee" package works:
The first thing she will see as she enters the suite is the dozen of roses that is waiting for her arrival.  As the evening unfolds, you will be provided with a delicious BBQ Rib picnic basket, that you can dine on in front of your blazing fireplace.
You both will delight in the Romantic Sensations Game which creates a wonderful experience for couples.  This wedding proposal package continues on with two  in room suite, one hour massages that will let you slip into a blissful state of tranquility.
After the massage, you can toast your future together with two champagne flutes that have been etched with your names and the date of your engagement on them.
This package contains:
*One dozen roses in  your choice of colors
* BBQ Rib Picnic delivered to your suite
*Two 1 hour massages in your suite
*Romantic Sensations Game
* Two champagne flutes etched with your names and the date of your engagement
* Silk rose petals scattered throughout the suite or arranged to say "Marry Me"
To book your suite, order this package, and make your romantic proposal this December,  call today at 262-215-1125.
Related posts: