Looking for a Delavan, WI hotel while checking out the Lake Geneva area?  It's pretty much a given that most people who visit the Lake Geneva area, tend to stay in the immediate area for their shopping, dining and lodging.  However, sometimes we do get folks who stay with us who don't want to head to Lake Geneva and instead want to explore someplace new….so for those  folks and for those of you who may be visiting with us in the near future and want to spread your wings and visit someplace new, yet close to Lazy Cloud….let's talk Delavan, WI.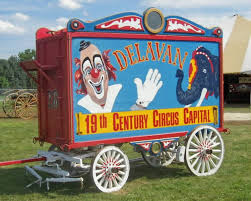 Let's go back in time for just a bit….way back to the second half of the 1800's, and if you were in Delavan during that time, what you would find is that there were no fewer than 25 different circuses who would winter in the town of Delavan.
In fact, as early as 1847, Edmund and Jeremiah Mabie, proprietors of the U.S. Olympic Circus, back then the largest traveling show in America, chose Delavan for their winter quarters.  This was one year before Wisconsin attained statehood, and a good 24 years before PT Barum and Ringling Brothers raised their first circus tent, in Baraboo WI.
Why Delavan, WI?  The town had the ability to support the circus horses and other animals….and we know that those animals were the most important assets to the 19th century circus, for several reasons, two of them being for transportation and performance.  With its abundant pastures and water, Delavan offered everything needed to hunker down for the winter.  In fact the Mabie Circus stayed at what is now the present site of Lake Lawn on Delavan Lake. The Mabie Brothers went on to create a circus dynasty that survived in Wisconsin for the next 100 years.
However like all things, change was inevitable and for Delavan and its circus era, that happened in 1894 when the E.G. Holland Railroad Circus folded its tents.  Except for a small handful of local performers who continued the tradition, the circus vanished from the community.
Within a generation, all the familiar landmarks of the circus era were all but gone.  On May 2, 1966 the US Post office selected Delavan to issue the five-cent American Circus Commemorative Postage Stamp.  Today there are no fewer than 250 members of the old circus era buried in Spring Grove and St. Andrews cemeteries.
To pay homage to its circus heritage, you will find several statues of circus animals throughout the town of  Delavan.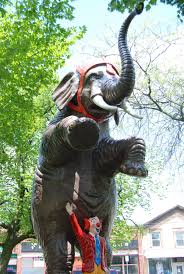 However, if you are still longing for a bit of Delavan's performing animal past, you need look no further than The Dancing Horses Theater, and take in one of their shows.  The equestrian program features a variety of breeds that perform alongside their trainers in what is billed as a "fantastic cavalcade of equestrian artistry".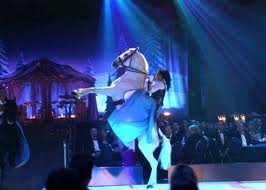 If after wandering around town and finding the circus statues, and then taking in a show at Dancing Horses has left you feeling a bit hungry, consider one of the following local restaurants to round out a full day of adventure.
Hernandez El Sarape Restaurante
If you love history, the circus  and good food, and are in need of a getaway with your special someone at a Delavan, WI hotel, then book one of our suites and instead of heading to Lake Geneva, head to Delavan, and let the adventure begin.
Related posts: