Dreamcatcher Suite
Checking out Lake Geneva vacations? Look no further!  A vacation package at our romantic Lake Geneva Hotel will put the spark back into your relationship!
Stay 5 days and receive fresh flowers, an "Enchanted Evening" game, the book Love, Laughter and Romance and a box of handmade chocolates FREE…or stay 7 days and receive one midweek night FREE!!
Your Lake Geneva vacation package can also include relaxing massages, gorgeous bouquets, tempting picnic dinners delivered to your suite, luscious desserts, decadent chocolates, and even breakfast in bed!
There are many different choices for Lake Geneva vacations. If you are looking for a place to take your children with you, ours isn't the one.  But if your looking for a getaway with your sweetheart, our romantic country Inn will have you falling in love all over again!
The romantic ambiance of the Dreamcatcher suite makes a perfect choice for memorable vacations!
Golden oak logs make the Dreamcatcher Suite glow with the warmth of an elegant log cabin. The spacious suite is decorated with the colors of Mother Nature – greens, browns, tans and accents of mulberry.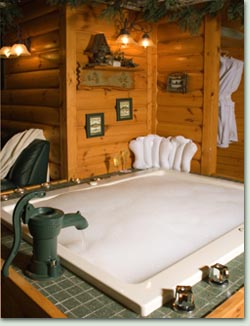 The king bed has a canopy of branches with mini white lights and evergreens wound through it.
There are sliding glass patio doors in the bedroom and the sitting room with great views of the woods to be enjoyed on your romantic vacations.
The couch is done in dark green leather – a perfect place to relax and enjoy the quiet ambiance. Check out our great romantic getaway packages that will make your stay even more special!
Facing the couch is an entertainment center decorated with birdhouses, duck decoys and vintage books.
A pub style table and chairs provide a great place to sit and talk as you enjoy breakfast in the morning. You will also have a wonderful view of the woods through the second set of patios doors.
Above the couch and double whirlpool, a canopy of mini white lights and evergreens adorn old, wooden window frames which makes this suite one of Lake Geneva's popular romantic vacations.
The corner fieldstone fireplace can be viewed from the bed, the couch and the whirlpool.
Check to see what we are serving for our continental breakfast and what other amenities are provided.  Also please review our deposit, cancellation, refund and other policies.
A checkerboard game in the suite also includes chess and some other board games.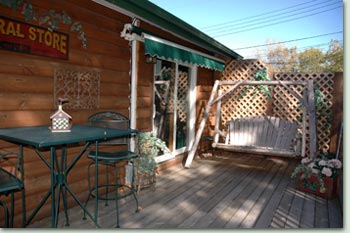 The private deck is a great place to enjoy the outdoors and enjoy the view of three acres of woods.
Remember–romance is our specialty!