Easter Vacations can be a great way to bring in a new celebration of life.
Easter is a time to celebrate, a time to truly be thankful and what better way than to be together and away from everyone. A trip to Lake Geneva can be just the right place to renew your faith with its secluded landscape and private nooks to hide away.
I am a traditional kind of guy. I do traditional kinds of things. I go to church on Easter and Christmas, watch football on Sundays, eat turkey and dressing on Thanksgiving, and put cookies and eggnog out for Santa. So, when my wife suggested we go do something different for Easter last year, I was naturally skeptical, I was floored actually. How would we make it through the day without Sunrise Service at our church, (the one we call "our" church but only go twice a year?) I was against her idea and fought it tooth and nail, more or less.
She was persistent and persistence pays off in the end. She wore me down, I agreed, just this once (strings attached) to allow her to haul me off to spend Easter Vacation in a foreign region. Part of the agreement was she would pack all the bags; all I had to do was drive and enjoy myself. Grudgingly, I gave in to her devilish plot. She was secretly trying to remove Easter from our lives, I was sure of it. Ever since she wore that hideous lavender polyester pants suit a couple years ago and some younger person commented about the 70s she has had it in for Easter. Of course, I told her how absolutely gorgeous she looked; I am, indeed, a smart husband.
Now, I will get back to the reason I am telling this story. My wife made the reservations and did all the research to find what to do while we were at Lake Geneva. I just went to work as always. While I labored away she sat at the laptop scanning websites and reviews all day, every day, for a week. She came up with her plan and I had to choices, agree and enjoy it or agree and enjoy it, period. So I did what any red blooded American male would do in this situation, I agreed and shut my mouth.
The weekend before Easter we piled our bags in the car, now this part of the story can't go without saying, and many of you reading this will know what is about to come next. Our Easter Vacation may as well have been a month long sojourn to the Swiss Alps with all the stuff she packed. Goodness gracious, this woman can (over)pack. I am going to assume this happens in many an American household. The man travels relatively lightly (when given the choice), while his wife likely packs for a weekend as though she will be gone for two solid weeks. I have come to the conclusion my wife, and probably many more, believe they do not sell washing machines or laundry detergent in other parts of the country. Naturally when I looked in the closet for something to wear on the way to this lost haven of laundry less hotels, I found it bare, all, ALL, of my clothes were packed. I had to clarify we were going for a week not relocating.
Anyway, once the car was loaded, coffee cup filed, and we were buckled in, we set off for the first of possibly many future Easter Vacations. The drive to Lake Geneva was not a long one; it only took a little less than two hours. Once we got away from the concrete fixtures of the city, the endless miles of drab, imposing highways, and the overbearing sound and smell of the industrialized traveling public the world began to seem like a really nice place again. There were no honking horns, no angry, enraged drivers waving obscene gestures at other drivers, just us and the open road to Lake Geneva. This, I am convinced, was what Ford intended when he developed the first car, two people in harmony with the road before them.
While I was certain we would go into town and park ourselves at a nice, comfortable resort, my wife had other plans. Easter Vacations are not the norm for us, or they hadn't been to this point so she wanted to start this tradition off right, in a way to make sure I would come back again and again. We stopped short of town by just a couple miles. We pulled into the drive at what was obviously not a house but not so obviously either. It was a Bed and Breakfast. It looked much like a home, a large one, but a home. The first impression made me think of something I had read some time back about how hotels in the US got their start. During leaner times, when people traveled, local folks would offer rooms for rent in their homes. It was a win-win, the home owner made a little extra cash and the traveler had a place to sleep for the night. We had never tried a Bed and Breakfast so this was a new experience.
We grabbed our bags and bags and bags and headed into the front door. The front room was decorated in traditional Easter pastels and the young lady at the desk was very pleasant and eagerly helpful. Surely she must think we were planning to move in with all our bags. She got us situated and thus truly had begun the first of many Easter Vacations to com.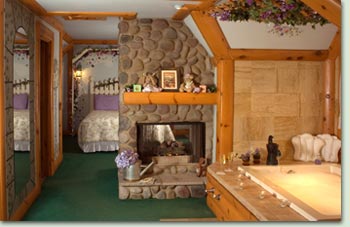 Enjoy Easter Vacations at Lazy Cloud Bed and Breakfast!
The first thing I did was kick off my shoes and plop myself down on the queen sized bed and soak in the luxury and comfort of the quilt. My wife wanted to start exploring right away; she opened all the cabinets and any closed door in the suite to examine and to take in the ambiance and the scents of this wonderful place. Easter vacations never felt so perfect.
We started off by taking a drive into town to see what surprises this hamlet has in store. We saw a bistro and had a late \lunch on the patio. It was a stark change from the crowded sidewalks and streets of the city and so wonderfully welcome. Later we strolled along the lake in the cool evening air before returning to our room to enjoy the pleasant evening air out in the garden.
The following day we attended an Easter Service at a local church where we were warmly greeted by the local pastor and his wife. After service we went to a nearby diner for brunch. I had had my fill and was ready for a nap, or at least to lie down and relax. My wife had other ideas but we compromised, we agreed on a limited amount of time to relax before trekking out to see what else coud be found in this quaint little village.
Easter Vacations may not be typical but certainly can reduce the stress of another holiday at home; no dishes, no need to color eggs, and if the kids or grandkids are around, there is plenty of family lodging at Lake Geneva.
 are certainly going to be a part of our future.
Related posts: