We wanted to share some fall wedding ideas with you, so that when you are planning the perfect day to tie the knot, you may start to "fall" in love with the idea of a fall wedding.
Crisp air, blue skies, bold jewel tone colors of fall…..these are just some of the many great reasons to have your wedding in the fall. 
Fall Wedding Reasons and Ideas:
Weather & Mother Nature
You can avoid the extreme heat of summer or the frigid cold of winter .You can have a romantic outdoor ceremony without worrying about you, or your guests melting in the heat or not being able to attend your wedding because of a blizzard. A fall wedding means that for the most part the weather will be temperate and you can party on into the night without worrying about humidity or snow.
When it comes to a great fall wedding idea, definitely incorporate Mother Nature into the mix of your décor. The natural colors, as well as all the textures and even the produce of the season mean you can create some amazing bouquets, as well as other decorations when you add some of Mother Nature's bounty to the mix.   When it comes to a fall wedding, fall foliage makes everything look magical, romantic and cozy.
Should it get a little "nippy" outdoors, no worries! A great fall wedding idea would be to have pashmina's at the ready for the bride and bridesmaids, and a basket of throw blankets in fall colors ready for the guests.  Also make sure there are enough heat lamps, and your outdoor fall wedding should go off without a hitch.  
Another super reason to have a fall wedding is that those bouquets and decorations you made in the above paragraph are going to be more budget friendly than flowers in the summer (or winter) would be.
Season of Bounty
Apples and pumpkins are in season, and nothing says Fall more than apples and pumpkins, so why not incorporate these two items into your overall wedding theme.
You can have a lot of fun using these items as props, decorations, as well as incorporating them into the menu.
Here's a great fall wedding idea…..set up an apple cider stand for your guests. You can serve apple cider, spiked apple cider, apple cider donuts, apple cider fritters! Well….you get the idea! 
And keeping with the theme of apples and pumpkins, you can work with your caterer to create a menu where these two items are the star. The recipes would be endless and the memories of this meal long lasting. Some ideas would be to serve some great comfort food dishes as well, including pumpkin pie, bisque soups, mac and cheese, etc.  Also earlier we mentioned how using Mother Nature to help with some of the decorations would be budget friendly, using apples and pumpkins as well as other produce of the season will also help stretch your budget, without sacrificing taste or creativity when it comes to food.
Here's a great fall wedding idea: fills glass fruit bowls with ripe red apples and then go ahead and decorate the base of the bowl with some beautiful fall colored flowers. You can use these as centerpieces at your reception.
In addition to having an apple cider stand, serve a signature cocktail during the event, such as Spiced Rum Apple Cider or an Old Fashioned.
Wedding Attire
We all know that summer weddings are beautiful and even sexy. However let's face it, they can also be HOT!  Blazing sun, warm temperatures and high humidity don't necessarily make for the best day to be wearing a long wedding gown, especially if you are having an outdoor wedding where there is not a cooling breeze to be found! 
But a fall wedding? Then the sky is the limit! Think of the perfect wedding dress with sleeves, or if you choose to go sleeveless, add a pair of elegant long sleeve gloves to add just the right touch of elegance and class.  And if you have a bit of a non-traditionalist streak in you, you can even wear cowboy boots under your dress!  Or if you are more into romance and elegance, some button up Victorian boots might be just what you need.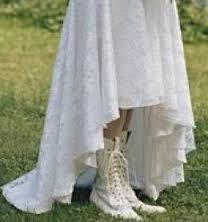 If you love accessorizing, then a fall wedding will let you do that in style!
When it comes to the bridesmaids, choose a jewel toned dresses for your bridesmaids.  Jewel toned dresses are flattering for most women and again since we have touched on the phrase "budget friendly",  your bridesmaids can wear these dresses during the winter holidays and get more than one use out of them.   As for their accessories, earlier we mentioned pashmina's.  Have each bridesmaid choose a pashmina color that compliments her dress to have at the ready in case there is a nip in the air.  And if they don't use it at your wedding, they will certainly use it dress during the upcoming holiday party season.
As for the gents, a brown or gray suit with boutonnieres made of berries and maple leaves would offer just the right pop of color.
How to Avoid Potential Problems of a Fall Wedding
Now that we have shared some great reasons as well as fall wedding ideas with you, we wanted to share a couple of fall wedding pitfalls, as well as ways to avoid them, so that your special day goes off without a hitch.
Having an outdoor wedding with Mother Nature's goodness as your backdrop sounds romantic, cozy and intimate….UNTIL the weatherman predicts an early cold front with frost and maybe even a few early snow showers in the forecast. When planning your outdoor wedding, always have a back- up plan.  Perhaps that means having an indoor venue at the ready or having a large enclosed canopy tent with heat lamps standing by, as well as a couple of fire pits (outside of the tent of course).  Check with your venue to see what plans you can make in advance just in case…..always better to be prepared!
You thought you chose your date carefully and sent out the invites months in advance, but you are finding that between Labor Day, Football games, Jewish high holidays and Thanksgiving, you are getting a lot of folks indicating they can't attend because of prior commitments.  When determining the date, take into consideration all of the fall events, as well as the schedule for football games if you know your guests are big football fans.  Get some input from friends on important games as well as other events that might be going on in the fall, so that you can work around them.
Let's face it, you will never find a date that will work for everyone, do some advance planning, you will have many folks who will  be able to attend and share in your special day.
Your outdoor venue seemed fine when you visited it with your fiancé during the summer, but now you realize that you could get dive bombed by hornets, poison oak is growing nearby, and your allergies might act up. When you go to book your outdoor venue, ask lots of questions to find out how the facility handles these problems.  On your part, make sure that the path leading to your wedding doesn't take guests past any poison oak or ivy, and then keep some over the counter anti histamines, as well as tissues and eye drops at the ready.
You always dreamed of walking down the aisle carrying a bouquet of lilies, but the problem is they are not in season and will cost a fortune if you can even find them.  Avoid this problem by choosing colors instead of specific flowers.  If you use in season flowers, you will have an array of options to choose from and won't have to worry about not being able to find out of season flowers.
When it comes to planning a stress free fall wedding, (or any wedding for that matter) the key is to be flexible.  Make your plans and then for each plan create a Plan B, so that if you need to change something, you will already know what you will be doing, and can sit back and relax.
Now if you are having a smaller wedding and want the ultimate experience in creating a stress free wedding, then let Lazy Cloud Lodge handle all your wedding details.
Having your fall wedding at Lazy Cloud is the perfect way for you to celebrate your special day with any one of our intimate wedding packages.  We have two wedding gazebos for you to choose from.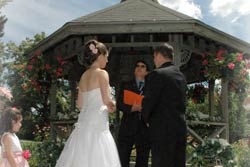 Should the weather be a bit too brisk for your outdoor fall wedding, then we will move the festivities inside where you can have your fall wedding with our cozy fireplace as the backdrop for your fall wedding.
With over three acres of picturesque grounds, there will be many places for you to have breathtaking fall photographs of your special day.  An English cottage garden, that blooms spring through fall,  complete with gazebo, a garden chess set, wooden bridge, and cobblestone walkways are just some of the great settings Lazy Cloud can offer you to take breathtaking fall wedding photos.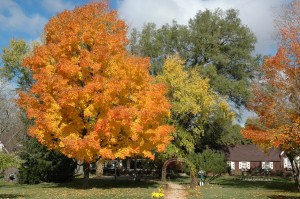 For more information on creating an intimate and stress free fall wedding, give us a call at 262-275-3322 to schedule a visit to Lazy Cloud.  During your visit, we will take you on a tour of the grounds as well as we share how we can make your day special and help you come up with fall wedding ideas for your special day.
After the tour we can head back to the lodge, go over some photos of past weddings, as well as find out ways we can work with you to turn your fall wedding into the wedding you have always dreamed of.
Lazy Cloud Bed and Breakfast is centrally located in southeast Wisconsin, just a few minutes from downtown Lake Geneva.  We are 90 minutes from Chicago, and only an hour from Madison or Milwaukee.
Related posts: