Gazebo Suite
If you're searching for honeymoon ideas at a Lake Geneva WI Bed and Breakfast, check out our Gazebo Suite that is decorated in a romantic garden theme.
The sitting room features a spectacular whirlpool area. The whirlpool sets on a eight sided platform. The back five sides are floor to ceiling mirrors, and the front three sides have three steps up into the whirlpool.
While soaking in the tub, you can enjoy the soft glow of the fireplace.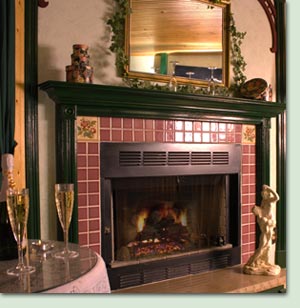 The bedroom is painted to give the feeling of being on a porch. The bed boasts garden decor with ivy and mini lights wound through the lattice work on the canopy of the bed and a lovey rose pattern quilt. Two of the walls in the bedroom are finished in pine and the ceiling is done in beadboard.
We bring the charm of the english gardens that grace the grounds of the Bed and Breakfast indoors. As you lay in bed you see a fountain statue as well as baskets of hanging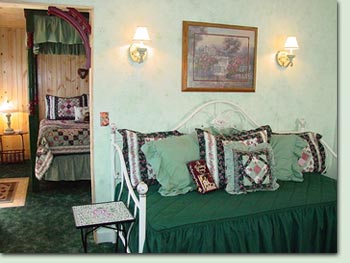 flowers that are painted to look like they are hanging from fretwork. Two kittens are sitting on the porch railing. Butterflies, bumble bees, and ladybugs hover near the flowers.
A dining area for two makes a great place to enjoy a scrumptious breakfast and to look out at our expansive gardens.
Check to see what we are serving for breakfast and what other amenities are provided.  Also please review our deposit, cancellation, refund and other policies.
The sitting room has a daybed with lots of pillows for lounging that's a great place to play the romantic couples game, "Enchanted Evening", and will give you some ideas for your honeymoon.
Check Gazebo Suite Availability Here!