Love Milk?  Love Festivals? Love Parades?  If you answered YES to at least one of these questions, then you have to clear your calendar for the first weekend in June and head to Harvard, IL.   Harvard IL is a charming quaint town located Northwest of Chicago, close to the IL/WI border.  Though the town may be small, there is nothing small about Harvard Milk Days.
It all began in the spring of 1942 when people got together to honor the area farmers for their "War Effort" of increasing milk and food production for the servicemen. At that time there were seven dairy companies within a 15-mile radius of Harvard and more milk was being produced than anywhere in the United States. Harvard became the self-proclaimed "Milk Center of the World!"
Milk Days grew through the forties and during the 50's mirrored a decade of good times and growth, within Harvard and the country as a whole. The ninth annual festival in 1950, marked the first open cattle show, 165 cattle were entered that year. The Milk Maid style show began in 1953, the dairy derby weight-loss contest added a year later. A record 75,000 people attended the special centennial Milk Day in 1956
By the 60's Harvard continued to claim it's title to "Milk Center of the World", as it saluted more than 160 dairy farmers within Harvard School District 50 during the 1966 Silver anniversary. The 1966 festival was dedicated to Louis Simonini, who originated and organized past Milk Day parades and served as the general chairman four times. The dairy princess contest was held for the first time in 1960. The Farm tours of area dairy operations became a milk Day tradition in 1967.
1970 introduced Harvard's famous fiberglass cow, Harmilda.  The first annual Milk Days Horse show was held in 1974. The Milk run, which featured a 2 and 7 mile run was introduced in 1978. The 1976 bicentennial celebration featured Susan Ford, daughter of President Gerald Ford.
The 80's marked the addition of some of Milk Days favorite events – bed races, big wheel races, the tractor pull, sock hop and the Milk Days roast. Milk Days continued into the 90's and now in the 2000's, it's stronger than ever. The huge crowds continue to come the first weekend in June.
What Harvard Herald Editor, Earl McIntyre, predicted after the first annual Milk Festival in 1942 has come to pass: "With the slogan, 'Harvard, Milk Center of the World' to act as the seed, the event is destined to grow to nationwide fame for years to come."
Harvard Milk Days offers a weekend of fun for people of all ages. Events include a 2+ hour parade, carnival, food, fireworks, petting zoo and other animals, races, contests and entertainment. For more information or a complete scheduled of activities,  visit www.milkdays.com.
Now, if you have come all the way to Harvard, IL to visit Harmilda and be a part of Milk Days, 2014, why not turn it into a full weekend by spending some time in the Lake Geneva area?  In fact, why not plan on making this a weekend to get away from the daily routine and schedule a romantic getaway in Wisconsin for you and your sweetie?  Give us a call at 262-275-3322 and book your suite today.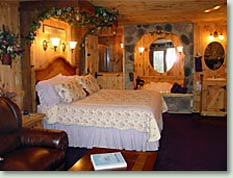 Lazy Cloud offers premier Lake Geneva lodging for couples looking for a romantic getaway.  We are one of the few Lake Geneva hotels with jacuzzi in room for two. Our bed and breakfast in Lake Geneva, WI provides wonderful amenities with whirlpools for two that have a view of the fireplace in every suite and room. Because we offer this, we are a great place for a Lake Geneva honeymoon. We are located in southeastern Wisconsin – only 90 minutes from Chicago and an hour from Milwaukee & Madison.
So book your stay at Lazy Cloud for Harvard Milk Days now!
Related posts: