Heavenly Nights Suite
This Lake Geneva Hotel is Like None of the Other Lake Geneva Resorts!
Have you found Lake Geneva Wisconsin resorts or even Lake Geneva hotels that cater to romance for Lake Geneva Wisconsin getaway weekends? Is there such a place in Lake Geneva? The guests at our Lazy Cloud Inn and at our Lazy Cloud Bed and Breakfast have discovered that we are blissfully unlike any Lake Geneva hotel or the Lake Geneva Wisconsin resorts!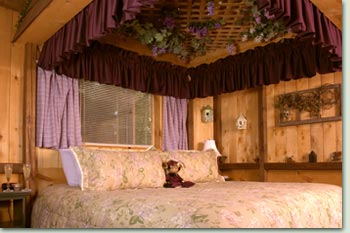 It is here you will discover that romantic Lake Geneva Wisconsin getaway weekends are our specialty!
If you're dreaming of a candlelit suite with a double whirlpool & fireplace, come stay at our Lake Geneva hotel!
The Heavenly Nights Suite is a perfect choice for one of your weekend getaways. The suite is decorated with a rustic garden theme in greens, purples and splashes of pink. The garden theme evolves as you notice that flowers are everywhere!
The canopy above the bed looks like the shake shingle roof of a cabin on the outside. On the inside of the canopy, a garden of lilacs, roses, ivy and mini white lights decorate a wood lattice frame.
The garden canopy is continued above the whirlpool for two and the double reclining green leather couch.
This makes it a great place to relax and enjoy your weekend getaways quiet ambiance.
The fireplace stone is split faced granite stone and can be seen from almost any area of the suite including the double whirlpool tub.
The two sets of patio doors offer you a view of the gorgeous 3 acres of woods from the whirlpool as well as from your canopy bed!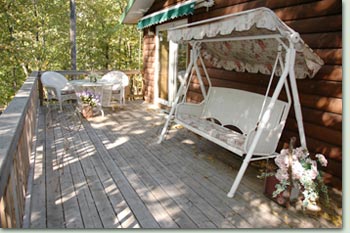 Two sets of patio doors lead to the large private deck which is surrounded by woods, which makes this suite one of Lake Geneva's favorite weekend getaways. It's a great place to catch glimpses of the wildlife and gaze into the "Heavenly Nights!"
Check to see what we are serving for our continental breakfast and what other amenities are provided.  Also please review our deposit, cancellation, refund and other policies.
As you can see, we are unlike all other Lake Geneva resorts!
Does the Lazy Cloud sound like the "normal" Lake Geneva hotel to you now?
Well…at least we are in Lake Geneva!
Come for a visit, experience the romance, and then let us know what you think!