We had a wedding earlier today at Lazy Cloud Lodge, and as you have heard us mention over and over again, we LOVE weddings.  For the bride and groom, there is nothing quite like those first few months of marriage when everything is new and exciting and wonderful, and all is well.  However after awhile, we settle into our routines and one day, we wake  and feel like the excitement is gone and life is, well….. a bit dull.
For many of us ladies, we begin to miss feeling the excitement of being the "girlfriend".  Being a girlfriend is fun, and being a new bride is wonderful and exciting and full of adventure, BUT being a wife can sometimes seem a bit dull by comparison.    As fate would have it, someone sent me an article today that I knew I just had to share with you.  It was a blog post on how to always be your husband's girlfriend,  (I am sure you could substitute life partner in there just as easily).  I will share a couple of the ideas from the blog below and then include a link on where you can head to, to read the entire blog post if you choose.
Also, while it may seem like the ladies are tasked with doing all these extra's, what you are going to find is that if you treat your husband or partner, like he is still your "boyfriend", he is going to reciprocate in kind, and you will always be the "Girlfriend".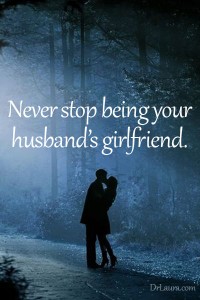 Leave him little notes – in his lunch, on the mirror in the morning, on the windshield of his car, etc.
Spontaneously touch him. Ever notice how in movies when somebody lays their hand on top of someone else's, their eyes just come together and they both feel more peaceful?  Touch is SO important.
Praise him in front of others. When you're in public or have people over, find ways to praise him and make him feel good.
Buy him a small gift. Little nothings over a period of time add up to something. It lets him know that you're thinking about him.
Initiate intimacy. This is an area of conflict in probably most marriages. You may not have a need at the particular moment for intimacy, but that's how men register that you love them.
Flirt with him. It doesn't hurt to be flirty! Flirting is a good way to show your affection and love. Exhibiting that Mom and Dad love each other strengthens your family and makes the kids feel incredibly safe at any age.
There you have a portion of the list; you can read more here.   Showing your husband love and attention on a regular basis will be one sure fire way to make sure you are always treated like a girlfriend, which keeps life interesting
And of course being a girlfriend brings some responsibilities with it as well…..like planning romantic and intimate getaways for you and your special guy.  Why not give us a call today at 262-275-3322, speak with one of our Innkeepers and plan just the perfect romantic getaway.
Lazy Cloud offers premier Lake Geneva lodging for couples looking for a romantic getaway.  We are one of the few Lake Geneva hotels with jacuzzi in room for two. Our bed and breakfast in Lake Geneva, WI provides wonderful amenities with whirlpools for two that have a view of the fireplace in every suite and room. Because we offer this, we are a great place for honeymoon getaways.  We are located in southeastern Wisconsin – only 90 minutes from Chicago and an hour from Milwaukee & Madison.
So start practicing being your husband's girlfriend now and book your romantic getaway now!!!
Related posts: