I don't  know about you, but I  love fall. Mother Nature is at her finest when the leaves change from green to vibrant tangerine, lemon yellow or russet red, to name just a few of the colors that she shows us.  Fall is also a spectacular time of the year to take photos….and with that idea in mind, Lazy Cloud held its first Fall Photo Contest.
We announced it on our Facebook page and after several entries, narrowed the choices down to 5.  Each photo was unique and special and we are so glad that Lazy Cloud didn't have to choose the winning photo because it would have been far too hard.   The winner was chosen by a vote on Facebook…..friends and fans came through in a big way for this contest.
After a week of logging each and every "like", voting ended on Sunday night the 10th of November.  Monday morning had us revisiting every vote and making sure each one was logged properly and at the end of tallying the votes, it was evident that we had a clear winner.  The winning photo was of Catherine and Chris….and they received a $100.00 gift certificate towards a stay in any of the suites at Lazy Cloud. (See their picture below)
Catherine shared with us that they plan on saving the certificate until next year when they use it towards their honeymoon.
We are so thankful for everyone that sent a photo to us, and we are especially thankful for both friends and fans alike, who took time to vote for their favorite picture.
We had such fun doing this contest, that who knows? Maybe it will become an annual tradition.
Remember though, that Lazy Cloud makes a great backdrop for any of your photos…..and you don't have to wait for fall to come visit with us.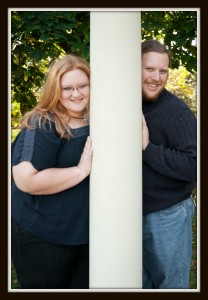 Call 262-275-3322 to book a night or two at our Lake Geneva hotel now!
Related posts: