You know what would be great while cuddling in front of the fireplace inside your suite at Lazy Cloud?  Cookies!  Yep, that's right…..Cookies!  Know what's even a bit more fun than cookies?  A Lake Geneva cookie walk!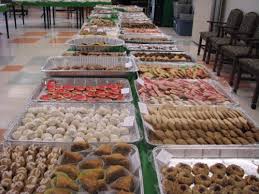 Never been on a cookie walk?  And wonder what one is?  Basically a cookie walk is a large assortment of homemade cookies that prospective buyers browse, walking down a long table stacked high with cookies".
If that sounds like it might be sorta different and unique for the holiday season, then book a suite with us during the weekend of December 7th, so you can participate in the First Congregational Church of Christ Cookie Walk.  You can mix and match your favorite Christmas Cookies for only $8 per pound.
In addition to choosing cookies, you will be able to view the inside of the beautiful and historic church sanctuary as you listen to holiday music in the background. The cookie walk runs from 9:00 a.m. to 1:00 p.m. (or until sold out).
Half of the proceeds from this cookie walk will be shared with Side by Side, a local community assistance program.  You can find the church located at 715 Wisconsin Street, in Downtown Lake Geneva.
After your cookie walk, you could head out to do some great shopping in Lake Geneva and whittle down that Christmas list by purchasing some unique gifts from the myriad of stores located in the Lake Geneva area.
A romantic weekend getaway to Lazy Cloud, a cookie walk, and some shopping…..sounds like a great romantic holiday weekend to me.  And if does to you as well, give us a call or go online and book your suite with us today.
Related posts: