If you've been looking for Lake Geneva hotels that have covered motorcycle parking, we can help you out!!
Covered parking for our motorcycle is something I am always looking for when checking out hotels, motels, inns or bed and breakfasts. We have sheepskin seat covers on our bike so I really like it if we can park under a canopy. Very few hotels have them.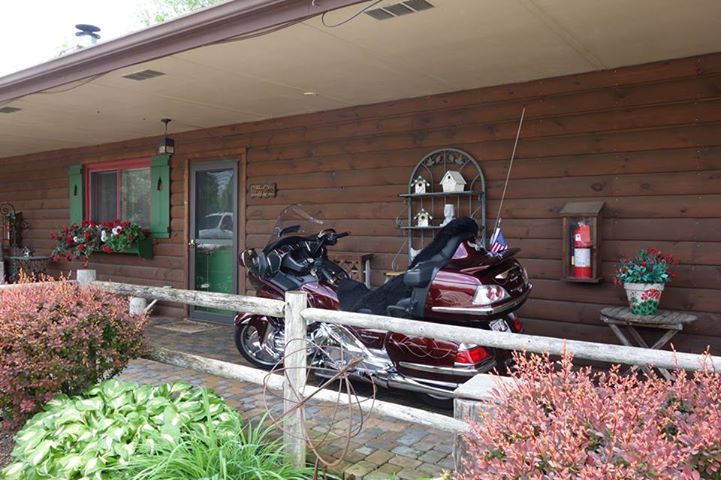 As I was checking on this while planning my next vacation, I thought about what I could do for bikers at Lazy Cloud. I don't know of any Lake Geneva hotels that offer covered parking. At Lazy Cloud Inn on State Road 50, we have a large overhang where you enter these rooms –
Heavenly Nights
Blue Moon
Moonlight and Roses
Starry Nights
Dreamcatcher
All I ask is that you push your bike (rather than ride it) onto the sidewalk so you don't disturb the other guests – remember, we are a romantic getaway!
And we have all the other amenities that your looking for when you are searching for romantic getaways in Wisconsin. There are double whirlpools to soak in just in case you are sore from riding. Bathrobes for lounging.  A cozy fireplace for a romantic view.  Complimentary champagne or wine and chocolate covered strawberries or a mini caramel apple pie for two is. a great midnight snack. Candles and bubble bath complete the amenties for your getaway.  All those items that are hard to fit on the motorcycle!
So if you're looking for Lake Geneva Hotels with covered motorcycle parking for your bike, make your reservation with us.
Just give us a call at 262-275-3322.  Or you can check out our availability on line and make your reservation on line if you would like to.  Either way, the weather is going to be great and it's time for a road trip on the bike!!
Related posts: