When is the last time you took in a Broadway musical?   On Water???????   That was Free????
Well, this might not be New York, but we promise you that if you take in one of our local water ski shows, you will forget where you are as you watch in amazement at the show that is presented in live in front of you.   Set to music, show skiing features all the components of traditional water skiing.  However, it ups the wow factor with music, costumes, themes and storytelling.
Take in a show and you'll see ballet and swivel skiing, adagio doubles, freestyle jumping and that water-skiing staple, the human pyramid.
Water show skiing was invented in 1922, and no one is quite certain what Ralph Samuelson was thinking when he decided to put on a "show" for his neighbors on the Minnesota lake where he lived.  However the sport has endured and has become incredibly popular in the upper Midwest.
Wisconsin has the distinct honor of  being home to the most show skiing clubs in the nation. Not only does this provide a creative outlet for its many members, it is also a great way for many of our local waterfront communities to showcase their town.  Many of these local water ski teams are great training grounds for water skiers as well.  In fact many of them go on to larger venues such as Tommy Bartlett in Wisconsin Dells and Sea World in Florida and California.
While you are visiting our area, plan to schedule an evening to take in one of these shows throughout the summer.  With so many local clubs in the Lake Geneva area, it won't be a matter if you can find a show to see, but which one to go see.  And as mentioned above, these shows are always free. What a great way to end a day of shopping and sightseeing in our area.  We have listed the local clubs below:
Thursdays  Fisher Park on Browns Lake in Burlington.  The Junior Show is at 5 p.m. and the Main Show is usually at 6:30 p.m.
Saturday and Wednesday  at Lance Park in Twin Lakes.  The Main Show is at 6 p.m.
Every Saturday through Labor Day.  The Future Team performs at 5:30 p.m. and the Main Show is at 6:00 p.m.
Wednesday at 6:30 p.m. at Idle Park on Little Muskego Lake.
All shows listed here are weather permitting and subject to change. Also, clubs listed here do not perform public shows during state and national championships. Check each club's website for exact dates.
Now I don't know about you, but after a day of shopping and eating, and  then taking in a water ski show, the last thing I would want to have to do is drive home.  We have your back on this point….quite literally.  Just call our Lake Geneva bed and breakfast at 262-275-3322 to book your stay with us.  Then after a spending  a full  day with your special someone, taking in all the area has to offer, all you have to do is take a short drive back to your suite,  where champagne, chocolates and a bubble filled double whirlpool tub await your arrival!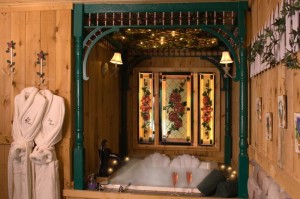 Lazy Cloud offers premier Lake Geneva lodging for couples looking for a romantic getaway.  We are one of the few Lake Geneva hotels with jacuzzi in room for two. Our bed and breakfast in Lake Geneva, WI provides wonderful amenities with whirlpools for two that have a view of the fireplace in every suite and room. Because we offer this, we are a great place for honeymoon getaways.  We are located in southeastern Wisconsin – only 90 minutes from Chicago and an hour from Milwaukee & Madison.
Related posts: