Continuing on with opening the pages of our in suite journals, we are opening the pages of the journals in our Gazebo Suite in our Lake Geneva Bed and Breakfast.  
If you are looking for
honeymoon ideas
, this is a great suite to check out.  It is awesome to let the guests be able to "speak" for themselves on what they thought of their experience at Lazy Cloud!
4-11
I was fortunate enough to have been brought here by my girlfriend for my 28th birthday, and without a doubt it has been the best birthday ever.  Started the day with a trip to Milwaukee and a nice lunch overlooking the river.
Followed lunch with a wonderful couples massage at the Clear Waters Spa (highly recommended) and then arrived at Lazy Cloud to see this amazing room.  Dinner was at Gordy's overlooking the lake and back to this wonderful room to spend the night relaxing in the jacuzzi, drinking wine, and snacking on fresh strawberries, along with cheese & crackers.
What an amazing evening spent with someone I love so much.  Would recommend this room to everyone.  THE BEST BIRTHDAY EVER!!!
L & R
***********************************
12-11
A "spur of the moment" trip lead us here…..what a lovely place!  So much character and charm! And very romantic….
Loved the Christmas tree.  The hot tub was amazing- did not want to get out.  Didn't play the money game but did find some and left it where it was.  The Sticky Buns were delicious.
Hopefully we will be back; will definitely speak highly of the place!
Happy New Year
J & L
PS: Cafe Calamari – Great restaurant!
*************************************
2-12
Thank you for an amazing time away!  We really enjoyed the hot tub!
Most B&B's won't give you bubbles and Lazy Cloud will.  We have stayed at a lot of B&B's and this will be one to remember.  We dined at Cafe Calamari and was pretty good.
We hid a couple of corks, but no money, so see if you can find them. The picnic basket was AWESOME!
Thanks again for everything….
R & A
**************************************
7-12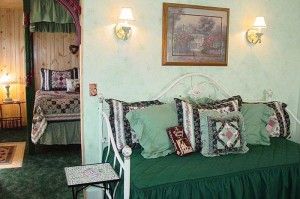 My hubby and I were here celebrating my 26th birthday!  I must say this romantic getaway has been one of the best surprises he's given me yet!  I really enjoyed staying in the Gazebo Suite.
The whirlpool experience was our first and it was AMAZING!  We will definitely be coming back to Lake Geneva to embark on more adventures and get romantic.
I don't know what it is about this place, but it's very relaxing and the scenery is breathtaking.  Most importantly, THANK YOU to the Love of My Life for bringing me here.
Te Amo!
L & A
*******************************************
10-13
We celebrated our 2nd Anniversary here in the Gazebo Suite.  It could not have been a better weekend.
The people were extremely friendly, the staff great, the weather was just right, BUT the best thing was spending the weekend with my Best Friend.  No pressure from work, no nagging from kids, no pressure but to sit back and enjoy each other's company.
We haven't talked and laughed so much.  It was truly a magical weekend!  Even though Lazy Cloud is a great place, it wouldn't matter where we were as long as we were together.
K & E
Bolingbrook
To book this suite (or any other suite at our Lake Geneva bed and breakfast) and leave your own journal entry, give us a call at 262-275-3322.
Lazy Cloud offers premier Lake Geneva lodging for romantic getaways in Wisconsin. We cater to couples and our B & B and Lake Geneva hotel provide wonderful amenities with luxurious jacuzzis for two and fireplaces in every suite.  We are located in southeastern Wisconsin – only 90 minutes from Chicago and an hour from Milwaukee & Madison.
Related posts: