Did you know that February is Celebrate Creative Romance Month — so it not only honors romance not only on Valentine's Day, but every day of the month??????  Yes that's right!!
In case you didn't know about Creative Romance Month, we have you covered!  Creative Romance month was created to encourage us to  add a bit of romance to our daily routine.  Let's face it, in this day and age, we all get so busy that we sometimes forget to show our love and appreciation on a regular basis and this is the month that reminds us to focus on making on making our special someone feel, well, "special!"
So this month, why not try a new challenge and don't just do something special on Valentine's Day, but do a little something once or twice a week, every week during the month of February.   If you really like challenges,  do one small romantic gesture daily.
Listed below are just a few ideas on how you can add a bit of romance to your day….AND they don't take a lot of time, nor cost a lot of money to implement!  Pick a few of them or create your own and make February a month to celebrate your love.
Love Notes:  When is the last time you wrote a love note to your sweetie?  You don't need to write an essay, just a quick little note expressing your love.  Hide it where they will find it during the day
Flowers :  Even men love flowers and you don't need to break the bank to buy a few flowers during the month.  Instead of buying a dozen roses, buy a single rose.  Instead of buying a bunch of flowers, see if you can buy just a couple of them
Chores:  Is there a chore or task that your special someone doesn't like to do?  Do the chore or task for them a couple of times this month.
Coffee/Tea: Does your special someone drink coffee or tea in the a.m.?  Take a few mornings this month and wake them up with a cup already made for them.
Love Coupons: Create a coupon book filled with love coupons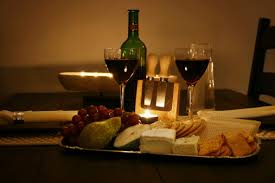 Dinner: Have a romantic dinner at home; break out the candlesticks, and candles, add a bottle of wine or sparkling juice and your best dishes.  The meal doesn't need to be fancy or expensive.   Most meals served by candlelight are going to taste delicious!
Date Night: Schedule a weekly date night!  It could be something as simple as coffee and dessert.
Making love last a life time, requires a bit of work, but I think you will agree with me that these ideas don't take a lot of time but will show your love that you care about and appreciate them.
And, of course, when it comes to making your sweetie feel special, there is no better way than to plan a romantic getaway in Wisconsin then to visit us at Lazy Cloud.
Lazy Cloud offers two romantic getaways in Wisconsin!  We are a couples getaway, and our B & B and small hotel provide wonderful amenities with luxurious jacuzzis for two and fireplaces in every suite and room .  We are located in southeastern Wisconsin – only 90 minutes from Chicago and an hour from Milwaukee & Madison.   Give us a call today at 262-275-3322 to kick off your Creative Romance Month and book your suite!
Related posts: