If you are looking for a 
great getaways for couples,
look no further than Lake Geneva.
This small community sits quietly on the shores of Geneva Lake. On first impression, the town is a small, charming village, but hidden among the scenery are nine Bed and Breakfast Inns and four Boutique Hotels. Lake Geneva is about an hour from Milwaukee and eighty miles from Chicago.
Before delving into the more exciting side of Geneva Lake, let's take a look at some of the history to gain perspective. In an earlier time, the town was inhabited by Native Americans and they named it after a tribal chief which translated loosely to "Big Foot". Sometime later, a man named John Brink compared it to Geneva, NY so he named it Geneva. There is a nearby town in Illinois named Geneva so it was renamed Lake Geneva to avoid confusion. Even today, the village only boasts a population of about 7,600, a far cry from the windy city or the brew town of Milwaukee.
This is no ordinary getaway for couples. Besides its naming curiosities, it has a storied past in regards to the names who have been associated with the beautiful scenery. It is rumored Al Capone stayed on the lake; mansions were built by barons of industry as Chicago was an easy trip by train. Frank Lloyd Wright designed a modern (for the era) drive in motel. There was even Playboy Mansion built on the lake. Early on a law was passed preventing private property from extending clear to the shore of the 8.6 square mile lake. This has allowed a 26 miles walking path to enclose the lake. So, when you rise to the dew kissed morning, take a stroll along your stretch of the scenic waterfront.
Whether you want to get away from the bustle of the city for a week or just a weekend, Lake Geneva offers an escape from that busy world and an opportunity for renewed peace of mind. If you really want a nice, quaint place to be alone, try the Lazy Cloud Bed &Breakfast. Absolutely romantic settings like in room Jacuzzi, fireplace, and chocolate covered strawberries make the Lazy Cloud an excellent choice for your couple's getaway.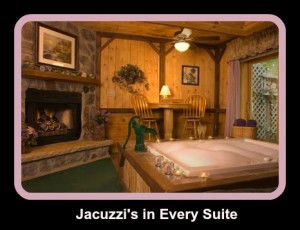 Getaways for Couples wouldn't be complete without a whirlpool for two and fireplace!
If you are a movie manic, make a visit to The Showboat of Lyons Theater and take in the latest release. Don't you remember those days when you were younger? Take your girl out for a movie; get some popcorn to share and a coke? While you romanticize your couples' getaway, go all out and spoil her with not only a great movie but a rush of memories.
While you're in town you have to immortalize yourself or your family with an engraved brick. Whether you want a smaller (4"x8") one on Driehaus Family Fountain in Rivera Park or a full 16"x16" boulder on the lake side of Brunk Performance Pavilion at Flat Iron Park, this piece of history can make you a part of Lake Geneva for generations. Don't forget the family pet; they too can have a brick Three Graces Fountain in Flat Iron Park. What a story to tell your grandkids!
Shopping doesn't stop at the city's edge nor is it exclusive to online stores. Lake Geneva has lots of shopping sites. With numerous art galleries and antique stores and everything in between, you can always find that special treasure to take home. No getaways for couples would be complete without at least one stroll along the sidewalk to browse in the shop windows.
If it's a little more outdoorsy type of activity you seek for your relaxation, Lake Geneva has virtually anything for the perfect getaway for couples. Whether it's boating, water skiing, fishing, hiking, or just lazing along the shore of the eight square mile lake, you will find Lake Geneva to be one of the best kept secrets you will discover. From hot air balloon rides to laser tag, your thrill seeking need can easily be met in this quaint romantic getaways for couples.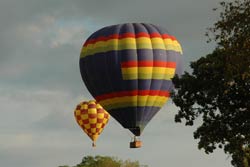 Getaways for couples are a great time to enjoy a hot air balloon ride.
When you are ready for a bite but are not quite sure what you want to eat, fret not, Lake Geneva has quite a ready supply of cuisines to offer. If it's all-over-your-face home style ribs you want, Smokey's Bar-Be-Que House may be just right. If you are looking for a more formal dining experience you may wish to try Cafe Calamari on the west end of Geneva Lake. Of course there is always fast food if you are short on time and just need a quick bite. The excitement of a sports bar and grill or the entertainment of a dinner theater can also be enjoyed while on your getaway for couples.
"Let the good times roll" seems to be the motto of Lake Geneva. It's absolutely great for the whole family with scores of fun for the little ones. That doesn't close the doors to a very private retreat for couples. Have a drink at Hogs and Kisses, then walk down the street for a light dinner before taking in the moonlight in a slow canoe ride on the lake. This will be a weekend you will not soon forget.
Do you crave winter sports? Lake Geneva has your icy fix. Not only are there ice skating rinks, there are hills and anyone who has ever visited a winter wonderland with hills knows what that means; sledding, snowboarding, skiing! So when you come, bring a pair of gloves, some warm winter clothes, your goggles, and an attitude ready for a blast. This will be a getaway for couples you will want to do again and again.
No getaway for couples would be complete without a romantic stroll in the early morning air or the dusk of evening as the sun sets on the water and the leaves change from green to shadows of yellow and brown.  With fall setting in now is the perfect time to make your escape to Lake Geneva.
With many choices of lodging such as B&Bs like the Lazy Cloud Bed and Breakfast or hotels like Lazy Cloud Inn, your getaway for couples can be completely worry free. So, next time you find you really need to just unwind, need a romantic weekend, or maybe you want simply to make a day trip of it for the scenery, come visit Lake Geneva, the getaway for couples.
Related posts: