If you have read any of our Trip Advisor reviews, you will see that many of the reviews mention how much they enjoyed reading the journal entries of previous guests.  For the first time, we are going to open some of those journals and share some of those entries with you here online.   However because we do value our guests privacy, we are only noting their initials!
The entries below are taken from an at random journal that is inside the Mossy Glen Suite, one of our romantic hotel suites.
Enjoy……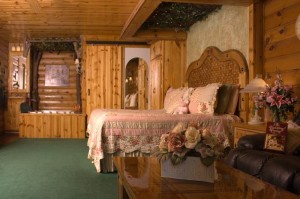 September , 2011
"Cannot even put into words what an amazing, romantic place Lazy Cloud was for us.  This was our first visit and definitely not our last.  My husband and I have been together for more than 23 years and being here together, just the two of us, felt like we were just starting to love each other again.  Th'is getaway was a gift for my 41st Birthday and I have to say that this was the best birthday I have ever had.
Time to get back to our 2 amazing kids, but we'll be thinking about our next visit real soon!
Thanks, everything was absolutely wonderful!!!
D&A
Bolingbrook, IL
*************
September, 2011
We had a great time these past couple of days here at Lazy Cloud.  We thought it would bug us not a having a TV, but we ended up loving it.  We spent more time listening and talking…and other stuff 🙂
The hot tub rocks!  So relaxing.   We got massages from Laurie which were awesome.  The picnic basket was HUGE! yummy….
To the men: if you didn't order the roses for your wife this time, do it next time.  Very beautiful and romantic!
Lazy Cloud has been a great spot to relax, have fun and full of surprises.
Have a great time with the Hide -n-Seek game.
J&B  on their 25th Anniversary
************
May 2010
My husband and I booked this room "The Mossy Glen" just to get away from everyday stress.  We didn't anticipate what magic could happen here.  We enjoyed the hot tub, breakfast, fireplace and even living without a television.  It felt like we were far from home and not in our backyard.  Thank you so much for the privacy; it was all beautiful.
Everything was at our disposal in this one room cottage.
We hope that everyone else that comes here enjoys the little romantic slice of paradise as much as we did.
J&B
**************************************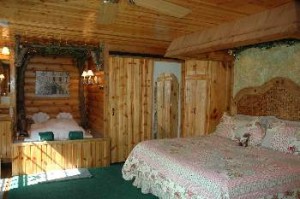 November 2009
We're back! 3 1/2 years later we returned for a romantic getaway!  This was better than we remembered when we came after our wedding.
Lazy Cloud is the perfect place to relax and enjoy each other's company!  The fire…..wine……games…..comfy beds….and the whirlpool make it hard to leave.  We hope to be back soon, but for now we have to get back to see our baby boy that we missed so much!
A&P
Fort Dodge, IA
*************************************
October, 2011
To celebrate 10 years of marriage, E surprised me by whisking me away for the weekend.  We've enjoyed a wonderfully lazy weekend with great conversation, sleeping in and quite a few spirits.
After 2 kids, 3 dogs and all of the other amazing things we've done together over the past decade +, this was a a great way to slow things down and enjoy one another.  Thank your for a wonderful weekend- this visit was just as good (if not better) than our first weekend here.
J&E
**************************************
November, 2011
Our 13th wedding anniversary!!  2nd year in a row we are at the Mossy Glen Suite.  It's our favorite room.  The best!  Romance, a game of checkers, bubble bath, apple cake….what a romantic time.
I could do this everyday.  When we retire we want an "A" frame home with a living area just like the Mossy Glen.
Be back next year…..
D&C
To create your own memories and to leave your own journal entry at this romantic hotel, give us a call today at 262-25-3322 and book this suite today!
Lazy Cloud offers premier Lake Geneva lodging for romantic getaways in Wisconsin. We cater to couples and our B & B and small hotel provide wonderful amenities with luxurious jacuzzis for two and fireplaces in every suite and room.    We are located in southeastern Wisconsin – only 90 minutes from Chicago and an hour from Milwaukee & Madison
Related posts: