If you are planning a romantic weekend getaway at Lazy Cloud, we have a basket of journals with notes, letters, and thoughts from previous guests in the suite.  
If you ever read any of our reviews on Trip Advisor, you will see that they make mention of these journals.
For the first time ever, we are opening the pages and sharing some of the entries with you; however to protect the privacy of our guests we are simply using their initials.  The following entries are from our Rendezvous Suite.
Enjoy!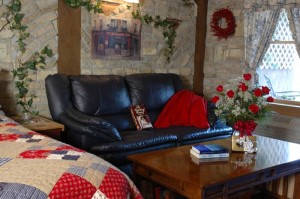 March, 2013
We came here the night we married at the courthouse and it was perfect.  Two nights was just long enough.  We loved the ambiance and the lack of TV.  We're going to Jamaica in May for the official honeymoon but having stayed here once before, we knew this was where we wanted to spend our wedding night.
We couldn't have had a better time and wish many happy memories for everyone sharing experiences together in this suite.
C&C
**********************
June 2013
My husband and I came here to celebrate our 3rd wedding anniversary.  It was our first time at the Lazy Cloud and it was more than we ever anticipated.   The room was cozy and romantic.  We made use of the lack of TV to actually focus on each other.  I surprised my husband with the picnic basket for lunch and we had so much food, we snacked on it the morning we left.
We dined at both Popeye's and Tuscan for dinner the nights we stayed here.  Popeye's is a good casual dinner restaurant with a great view of the lake.  Tuscan's is great if you want finer dining.
The most important part of our trip was to reconnect with each other & show how much we still love each other.  We will definitely return to Lazy Cloud and this suite again.
T&W
*************************
August, 2013
My fiance booked a weekend here to celebrate my birthday which was earlier in the month.  We are getting married in September, so it was nice to have a break from work and wedding planning.
We had a wonderful weekend just hanging out together with no distractions.  We hope to come back in the future.
K&A
Chicago
**************************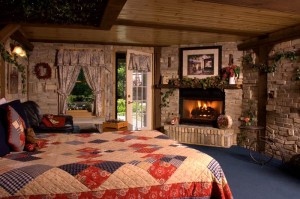 September, 2013
Our stay @ Lazy Cloud was a portion of my birthday gift from my boyfriend.  We stayed Friday to Saturday and I couldn't wait to get off work to begin our first romantic get away together on the motorcycle.
After checking in, we ate at Anthony's Steak-n-Seafood, and hurried back for a fabulous night of enjoying each other's company.  We will be back again, creating more memories, as this place has a special place in my heart.
B&D
****************************
August 2012
This is our second time at Lazy Cloud, new room.  Last time we were in the Starry Nights Suite. This room is great.  J & I are celebrating our 5th anniversary.  We had a great time here.  The staff are very nice.  No need for a TV, we got to explore each other.  We will stay here again.
J & D
Lazy Cloud offers premier Lake Geneva lodging for romantic getaways in Wisconsin.  We cater to couples and our B & B and small Lake Geneva hotel provide wonderful amenities with luxurious jacuzzis for two and fireplaces in every suite and room.    We are located in southeastern Wisconsin – only 90 minutes from Chicago and an hour from Milwaukee & Madison.
To create your own romantic weekend getaway memories and to leave your own journal entry for future guests in the Rendezvous Suite, give us a call today at 262-25-3322 and book this suite today!
Related posts: