Maybe it is the actual feeling as though you are entering into your very own Log Cabin with its hardwood floors, and logs on the wall and ceiling, and primitive country decor, that lends itself to coziness and romance, and inspires our couples to jot down their thoughts on their romantic Lake Geneva vacation.
We are opening the pages of some of the journals from our Log Cabin Suite to share with you some of the thoughts that previous guests have had while they stayed in the suite.
8-13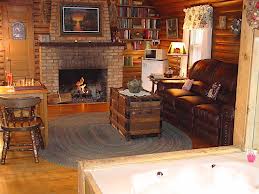 We are here for our 23rd Anniversary. Spur of the moment trip.  We haven't had a trip alone without the kids for years.  Life is hectic but good.  We found the dollar in the cabin.  Having a great time!
When two people love each other like N and me, you sometimes forget to show it as much as you used to.   This trip has helped us to slow down and reconnect.  I hope we feel this way in another 23 years.
D & N.
**********************************************************************
8-12
This was a great honeymoon for my new husband and I.  We had a wonderful time here.  It's like a new home!!  We really enjoyed every minute of it.  All of the staff here are so kind to us.  It has been so nice to just sit outside in the peace and quiet, or just to listen to the birds chirp in the morning, while we eat breakfast.
If you get a chance, you really must check out the town, it is truly amazing!  There is a peaceful and beautiful path along Geneva Lake called The Lakeshore Path.  It is the best sight I've ever seen, also the carriage rides are a lot of fun.  We're about to head out for a cruise in a bit.  I can't wait!  We will definitely be returning.
J & H
*****************************************
10-13
We were married here at Lazy Cloud on 1-4-13.  We decided to come down for a visit to see the fall colors.  We loved the Log Cabin Suite.  Lazy Cloud holds a very special memories for us.
My husband loves looking for dollar bills.  He found 7 dollars and we added 2 more, so there are 9 hidden.
We will definitely return again to celebrate just being together and making each other feel special.
Bistro 220 gets 4 stars for dinner and P usually wins at the Enchanted Evening Game.
M & P
***************************************
1-14
Life was very much getting in the way of our relationship and we desperately needed a get-away.  FAST!!!   I stumbled upon Lazy Cloud on the internet……We had never heard of it before.  Needless to say this was exactly what we needed.
We had an amazing time!  And we also enjoyed hunting for dollars and looking at the corks from visitors past.  All the past clues apply…with one additional.  It's one of two.  One is easy and one is not.  Good Luck!
T & M
****************************************
Lazy Cloud offers a premier Lake Geneva Bed and Breakfast for romantic getaways in Wisconsin. We are a great place for Wisconsin getaways for couples.  Lazy Cloud is one of the few Lake Geneva hotels with jacuzzi in room that have a view of the fireplace in every suite.  We are known for our honeymoon getaways because we offer so many complimentary romantic amenities including candles, bubble bath, champagne and chocolate covered strawberrries.  Our romantic getaways are located in southeastern Wisconsin – only 90 minutes from northwest of Chicago and an hour from Milwaukee & Madison.
To read more journal entries, or to create your own, give us a call today at 262-25-3322 and book this romantic suite for your very own romantic Lake Geneva vacation!
Related posts: