Experience the romance and the spirit of the 1920's and 1930's, as the town of Sharon, Wisconsin brings this era back to life for one day each year, on Model "A" Day.
Every year on the first Sunday in June, this period in our history is recreated for a few hours in the small town of Sharon, WI.  Model A's line the street and the folks are dressed as both gangsters and flappers.   As you stroll past the historic buildings, the Model A's and people in period attire, you will feel as if you have stepped back in time.
Join the illusion of stepping back in time and see flappers dancing in the street, trying not to get in the way of passing gangsters with the Keystone Cops straight on their tails. Admission is free, as is the invitation to dress for the era and enjoy a pig roast with all the trimmings, running board lunches, an old-fashioned ice cream social, Charleston dancers, gangster-era skits, a roaring '20s magician, Dixieland band, strolling ragtime musicians,  swaps, vendors and hundreds and hundreds of Model A's.

Since Sharon, WI is located only about a half hour from the Lake Geneva area, why not turn this into a romantic weekend getaway?  After you have spent the day visiting the romance of an era gone by, why not keep the romance going by spending the night at Lake Geneva bed and breakfast?  Give a call at 262-275-3322 and book your suite today.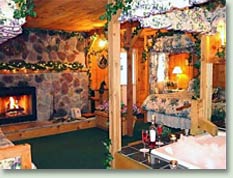 Lazy Cloud offers premier Lake Geneva lodging for couples looking for romantic getaways in Wisconsin.  We are one of the few Lake Geneva hotels with jacuzzi in room for two. Our bed and breakfast in Lake Geneva, WI provides wonderful amenities with whirlpools for two that have a view of the fireplace in every suite and room. Because we offer this, we are a great place for a Lake Geneva honeymoon getaways.  We are located in southeastern Wisconsin – only 90 minutes from Chicago and an hour from Milwaukee & Madison.
Related posts: