Moonlight & Roses Suite
Other Lake Geneva resorts offer only SOME of the luxurious features that you will find at the Lazy Cloud!
The Lazy Cloud, one of the smallest Lake Geneva resorts, offers you a host of complimentary amenities.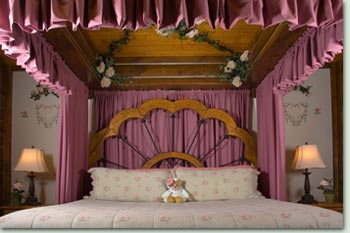 A chilled bottle of wine or champagne and hand dipped chocolate strawberries or a caramel apple pie will be waiting for you upon arrival! Delectable chocolate raspberry meltaways will be placed daily at your bedside! Scented raspberry bubble bath will be found next to your double whirlpool. The warmth of your comfortable robes and the romantic glow of your fireplace and tea light candles confirm that among Lake Geneva resorts, the Lazy Cloud far surpasses many of the finest accommodations in the area!
A romantic honeymoon in the Moonlight & Roses suite at this luxury Lake Geneva resort will create memories that will last a lifetime!
The Moonlight and Roses Suite is a unique combination of a rustic log cabin with the enchantment of a rose garden…a great place for your romantic honeymoon.
Underneath the canopy of the king sized bed, ivy and cream roses are intertwined with mini white lights, creating a magical spell for your romantic honeymoon.
You will also have a view of the woods from your bed through one of the two sets of patio doors that your suite boasts. You can awake to all the beauty that nature has to offer.
The unique dining table is a wonderful place to enjoy breakfast in the morning on your romantic honeymoon as you gaze through the patio doors overlooking our three acres of woods.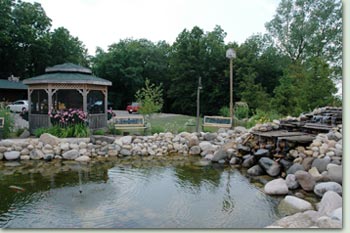 The fieldstone fireplace was designed so that it can be seen from almost any place in the suite. The double green leather couch, the double whirlpool as well as your comfy king size bed have great views of the fieldstone fireplace.
The walls are a log cabin style with a wood bead board ceiling and hunter green carpeting.
Check to see what we are serving for our continental breakfast and what other amenities are provided.  Also please review our deposit, cancellation, refund and other policies.
A large private deck is the perfect place to relax and enjoy a beautiful day during your romantic honeymoon or getaway!
Among the "small" Lake Geneva Resorts, you will find "BIG" Lake Geneva Resort luxury with wonderfully romantic amenities.
We're the Lazy Cloud–where being small makes a BIG difference!
Check Moonlight & Roses Suite Availability Here!