Northwoods Suite
A Lake Geneva romantic weekend getaway… special moments…away together…at last!!
When was the last time the two of you were able to get away from the children, the everyday chores, the phone, the T.V., etc., and just take time for each other.
Remember the way it was when you first got together??
Let us help you plan a Lake Geneva overnight getaway…
A romantic weekend getaway is usually easier for most guests because they don't have to take time away from work. The downside is that Lake Geneva is very busy on the weekends The upside is that more things are happening. But a midweek getaway can be even better. Lake Geneva isn't as busy during the week so it is easier to find a parking place, get dinner reservations and enjoy the lake. Just give us a call and we can help you plan your romantic weekend getaway or a quiet midweek romantic getaway.
Romantic getaways in Wisconsin begin in the Northwoods Suite that features logs and stone, and captures the essence of a cabin up north! Logs are the focus of one wall in the sitting room as well as one wall in the bedroom. Both rooms are carpeted in a luxurious chocolate brown plush.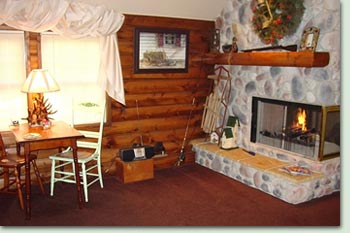 The unique bathroom showcases log walls and it boasts a field stone shower that you can see in the reflection of the mirror!!! The bathroom is also wheelchair accessible.
The large see-thru fieldstone fireplace separates the two rooms while a pair of old cross-country skis with leather straps leans waiting in the corner.
In the bedroom, an over-sized cannonball headboard commands your attention. The quilt on the bed is done in a log cabin pattern with deep burgundy, brown, tan, and cream.
As you are relaxing in your bubble filled whirlpool for two it is as if you are overlooking mystical mountains at a beautiful sunset that none of natures creatures can resist. Above the double whirlpool, mini white lights and ivy wind through lattice work for romantic lighting. Candles surrounding the bubbling whirlpool create an enchanting ambiance.
In the sitting area, you will have a great view of the flickering fireplace from the whirlpool and from the tan leather love seat that sits next to the whirlpool.
While on your Lake Geneva romantic overnight getaway, dine at the rustic "table for two".  As you gaze out the window from your dining table, our beautiful gardens and expansive lawns unfold in front of you.
Not only will you enjoy this picturesque scene from your dining area, just outside your door your private patio area with table and chairs awaits you.
Check to see what we are serving for breakfast and what other amenities are provided.  Also please review our deposit, cancellation, refund and other policies.
Kick back and relax because a Lake Geneva romantic weekend getaway is meant to be savored!!