Rendezvous Suite
Imagine a Romantic Weekend Getaway while lodging in Lake Geneva Wisconsin!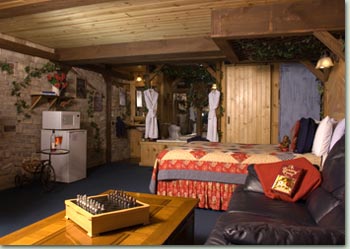 A candlelit double whirlpool suite, cozy fireplace and complimentary champagne with chocolate dipped strawberries are only the beginning!
Lake Geneva Wisconsin lodging is at its finest at the Lazy Cloud Inn and the Lazy Cloud Bed and Breakfast!!
Your romantic getaway in Lake Geneva Wisconsin begins in the Rendezvous Suite with the one you love!
This gorgeous suite is decorated with a in a rustic french country look. You'll experience an elegant touch of France surrounding you during your romantic weekend in the Rendezvous!
The colors throughout the suite are done in warm deep reds, golden tans and shades of blues. The walls are done with antique cream city brick and set in a random pattern in the mortar, mimic the outdoor facade of centuries old buildings. Viva la France!
Unusual pieces of antique wood and timbers are placed in unexpected patterns and are highlighted by the massive wood timbers embedded in the walls as well as in the ceiling.
Your whirlpool is surrounded with mirrors on two sides with dark brown timbers forming a canopy over it. And, wonderful raspberry bubble bath has been provided so you will have mounds of glorious bubbles to enjoy!
Twinkle lights and greens inside the canopy of the whirlpool create a tranquil atmosphere for you to relax and enjoy your romantic weekend together. The unusual pump that is used to fill the whirlpool is handmade from two logs found in our woods.
A romantic getaway in Lake Geneva isn't complete without a fireplace that can be seen from anywhere in the room!
The gorgeous wooden headboard of the bed is built right into the wall. Relax on the comfy dark navy blue leather reclining love seat and enjoy the fireplace on your romantic weekend!
The coffee table that sits in front of the couch changes into a dining table with an easy touch of your hand.
Check to see what we are serving for our continental breakfast and what other amenities are provided.  Also please review our deposit, cancellation, refund and other policies.
Just outside your door is a beautiful private cobblestone patio with a dining table and two chairs. With the trickling sound of the water from the fountain and the beauty of the gardens you will wonder if you have been transported to faraway lands! Sip your champagne and toast each other. This romantic moment is yours!
Check Rendezvous Suite Availability Here!
A Romantic Getaway Awaits You at Lazy Cloud in Lake Geneva Wisconsin!
Discover lodging for a weekend getaway like no other!