It was WARM today…..I mean sunny, and warm!  After our long winter, it felt great to be outside under the warm sun.  For Lake Geneva, summer sun means one thing.  Plenty of folks visiting the area!  If you travel to Lake Geneva during a summer weekend, you will find the streets and sidewalks teeming with automobiles and tourists.
Happily for business owners, it seems that every year more and more folks discover Lake Geneva and go on to become "regulars".  For those of us familiar with the area, it does seem that as the crowds grow thicker, the energy and excitement level of the area increase.  Let's  be honest though, have you ever wandered along the lakefront path in the early a.m. when there are very few others out and about, and wished that for a brief time, you could enjoy all that Lake Geneva has to offer without all the crowds and congestion?  I think many of us have had that thought on more than one occasion.
But have you ever taken that thought further and thought "wow….life moves so very fast, I wonder what Lake Geneva was like in the late 1800's, when the pace of life was so much slower? It might be nice to see what life was like then."
Well…….to  borrow and paraphrase a line from the Wizard of Oz…."Close your eyes and tap your heels together 3 times and think to yourself, what was Lake Geneva like in the 1800's".
Did you do it? If you did, then boy oh boy, do we have a day trip for you!  During the weekend of June 13th, 14th and 15th, you really can Journey to Geneva 1872.
You can experience living history as the company from Pelajia Productions, under the direction of JaNelle Powers, presents the premier performance of Journey to Geneva 1872.  Your seat is literally ON Main Street at the Geneva Lake Museum.  The actors bring this 2 act play directly into the rooms and exhibits, making this an event you don't want to miss.
This will truly be a unique theatre experience and one you won't want to miss!   Limited seating – tickets are on sale for $40 each.  Call or visit the museum to confirm your seating for these very special performances.
Performance times:
JUNE
13th  Friday 7:00 PM
14th  Saturday 7:00 PM
15th  Sunday 3:00 PM
Doors open ½ hour prior to performance.
Now once the performance is over, and you return to present day life, do you really want to head all the way back home?  Of course not!  Why not turn this theatre performance into on of your romantic getaways in Wisconsin by giving us a call at 262-275-3322 and booking your suite today.  Let the magic of a slower pace of life follow you back to your suite, where you can relax and spend time with each other without all the hustle, bustle and noise that goes on in a lot of chain hotels. Here you will find solitude, romance, whirlpools for two, along with champagne and chocolate covered strawberries.  Doesn't that sound so much better than fighting traffic heading home or staying in a cookie cutter hotel?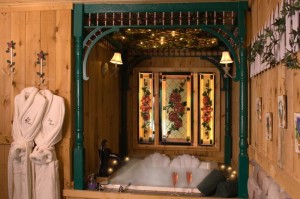 Lazy Cloud offers premier lodging for couples looking for a romantic getaway at our Lake Geneva Bed and Breakfast.  And we are one of the few Lake Geneva hotels with jacuzzi in room for two. Our bed and breakfast in Lake Geneva, WI provides wonderful amenities with whirlpools for two that have a view of the fireplace in every suite and room. Because we offer this, we are a great place for a honeymoon in Wisconsin.   We are located in southeastern Wisconsin – only 90 minutes from Chicago and an hour from Milwaukee & Madison.
Related posts: