Looking for romantic Christmas gifts for him??  Consider a gift certificate to Lazy Cloud Bed and Breakfast in Lake Geneva, WI or Lazy Cloud Inn.  This will probably be something totally different for him.  Lazy Cloud is not filled with Victorian furnishings, or fussy lace doilies, and you don't have to eat with the other guests if you don't want to.  We offer lots of privacy with outside entrances to each room and, of course, private bathrooms.  Each suite has a whirlpool for two and a fireplace so he can kick back and relax.  He will love the rustic feel of  lots of wood and stone.
So if you're looking for great Christmas gift ideas, check us out. We are pretty much rustic meets romantic!
It's easy to purchase a gift certificate for a dollar amount or you can actually book the suite and the dates.  This makes it a little harder to plan but he will know exactly when the getaway is.  If you do the dollar amount, he can check out all our rooms and suites, and check the availability.
Romantic Christmas ideas for him are sometimes hard to come up with but I would bet that he would much rather have this than a tie!!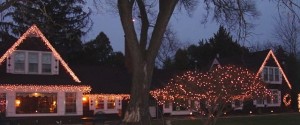 Men, if you're reading this, romantic Christmas gifts for her are just as easy. She would love a gift certificate to Lazy Cloud. Include relaxing massages in the package and she will remember this gift for a looong time!
Remember romantic Christmas ideas for her or him are easy to fulfill at Lazy Cloud. Just give us a call at 262-275-3322 or you can even make a purchase online.
Related posts: