It's no secret that we are big on love and romance at Lazy Cloud;b in fact we go out of our way to add romance to all that we do.  That statement is never more true, especially when it comes to holidays!  Even some of the ones that don't seem  lend themselves to romance, we find that we look for ways to add an element of love and romance so make it a bit more special.   St. Patrick's Day is coming up, so we thought we would look for some creative (as well as inexpensive) ideas on how to make this day a bit more special and dare we say it "Romantic".
With a bit of research, we found a blog post by Mary Chatman that will give you some simple & easy date ideas, and who knows, the ideas we share may spark your imagination to create your own special St. Patrick'Day Date.
We will feature 5 Date ideas in this post and the last 5 in our second post on this topic. Bain Sult!!! (Irish for Enjoy!)
1. Weather permitting, plan a romantic picnic outdoors. Pack a picnic basket filled with your favorite goodies. Think green—green napkins, green plastic utensils and cups (check your local party store). Head out to your local park, look for a secluded spot under a tree and enjoy an afternoon of romance. Oh and don't forget the blanket and a bottle of your favorite wine, or add a little green food coloring to a bottle of your favorite champagne for a toast to your love. (This is obviously for those of us who don't live in the Midwest….though I am sure you will agree that if you do live here and decide to go for a picnic outdoors you won't need to worry about finding a secluded spot for the the picnic, because chances are good the whole park will be empty.  Now of course, you could build a Snow Fort, for that picnic!)
2. Turn your sweet tooth green. After dinner go with Irish-themed desserts, like an apple tart served warm with sweet custard. Or you can use green frosting for cupcakes or sugar cookies. Hint: For a greater romantic impact, feed each other dessert!
3. Get in line. Check your local community listings for a St. Patty's Parade to attend together. It's a time for fun and there may be music, Irish food, drinks, activities, crafts and games.

4. Spell out your love in color of the season. Write love notes for your beloved to discover using a pen with green ink.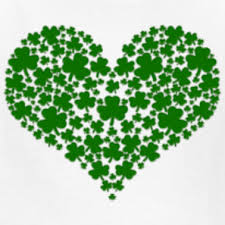 5. Create your own pot of gold. Pick up a small pot and fill it with golden chocolate coins (found at most dollar stores) and create a trail leading to the bedroom for a little chocolate delight. Be sure to set the mood in the bedroom beforehand.
There you have the first part of the list….stay tuned for the second part!
Of course it goes without saying that when it comes to romance, a stay with us at Lazy Cloud would fit the bill….and with a bit of creativity and working with an Innkeeper, we can promise you that romance will reign supreme.  Instead of rose petals, let us drop some of those gold candy coins for you.  Instead of regular flowers, we can work with our florist to give the bouquet a "green" theme.   We can even provide you with a list of restaurants in the area that are serving up Irish Fare!
All it takes is a call to us at 262-275-3322 to book your suite and let your romantic ideas for St. Patrick's Day begin.
Related posts: