In our last post, we gave you about 5 romantic date ideas for St. Patrick's Day to turn it into a romantic date night for you and your sweetheart.
Today we are going to finish up that list…again these ideas come from a blog post by Mary Chatman.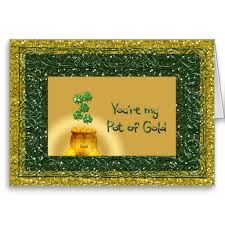 6. St. Kiss-A-Lot. Even if you're not Irish, enjoy a make out session filling the day with lots o'kisses! Think outside the box by trying several different kisses. Spark romance and have fun as you get creative with it.
7. Decorate yourself with lucky charms. On your way home from work, pick up sexy lingerie or underwear in green or appropriately-themed for St. Patty's Day.
8. Hide and seek. Purchase a bag of green marbles to hide for a game of hide and seek. Redeem them later for a kiss to the body part of your choice. Grand prize: Whoever finds the most marbles has to give the other person a massage. Bet you never thought marbles could be used in such a fun, sexy, romantic way!
9. Offer some Irish comfort. Slip into something skimpy and sexy and prepare the ultimate Irish comfort food together, using kitchen staples like potatoes, sausages and bacon. Cook up a steamy Irish stew, corn beef brisket with cabbage, or a tender chicken or lean lamb to serve together with potatoes, carrots, onion, mushrooms, and your favorite herbs, and don't hold back on the spices. If you're a vegetarian you know what to do, just skip the meat altogether and enjoy!

10. Go ahead, bring on the green beer. Head for the nearest Irish pub for the evening. Check your local listings to find out if there may be a schedule of events. You never know, you may find yourself on top of a table dancing a jig.
Well! There you have it….take these last couple of posts, come up with a romantic themed day and Viva la Romance!  And of course don't forget our offer!  Give us a call today at 262-275-3322 and let us work with you to create an Irish Themed Romantic Getaway!
Lazy Cloud offers premier Lake Geneva lodging for your romantic getaway. We cater to romantic couples. Our B & B and small hotel with jacuzzis for two that have a view of a  fireplace in every suite and room are a great place to set up your St. Patty's Day escape.   We are located in southeastern Wisconsin – only 90 minutes from Chicago and an hour from Milwaukee & Madison.
Related posts: