Planning a special Valentine's Day dinner or event?  We did a bit of searching on the internet and came up with a few red drink recipes for you to try out on your special someone!  Also please note that not all of these have alcohol.
Rasmopolitan
A modified Cosmopolitan, this cocktail also calls for raspberry-flavored vodka and sweet black-raspberry liqueur.
1 ounce(s) (2 tablespoons) citrus-flavored vodka
1 ounce(s) (2 tablespoons) raspberry-flavored vodka
1/2 ounce(s) (1 tablespoon) Chambord
1 tablespoon(s) freshly squeezed lime juice
1 tablespoon(s) Simple Syrup
2 tablespoon(s) cranberry juice
Raspberries, for garnish
---
Directions
Fill a cocktail shaker halfway with ice. Add vodkas, Chambord, lime juice, simple syrup, and cranberry juice. Shake or stir until well chilled. Strain into a martini glass. Garnish with raspberries; serve.
************************************************
Raspberry Chocolate Kiss Cocktail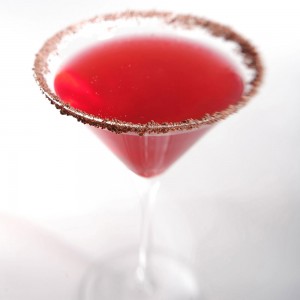 This romantic raspberry-chocolate cocktail, from chef Michael Schulson, is the perfect apertif for a Valentine's Day celebration.
1/4 cup(s) 1/4 cup(s) vodka
2 tablespoon(s) cranberry juice
3 chocolate cookies, finely crushed, such as Nabisco Famous Wafers
10 raspberries
Ice cubes
---
Directions
Fill a shallow dish with enough simple syrup to just cover the bottom. Place crushed cookies into another shallow dish. Invert a martini glass into simple syrup and then immediately into crushed cookies to coat the rim of the glass.
Place raspberries in a cocktail shaker; crush with a muddler. Add simple syrup and muddle again. Add vodka and cranberry juice; fill shaker with ice. Shake well until chilled. Strain into prepared martini glass. Serve immediately.
*******************************************
Raspberry Coolers
Use raspberries as the base for an aromatic syrup, and combine with seltzer for a refreshing sip. A few tablespoons of the mixture also enlivens white wine, vodka, and iced or hot tea.
2 pint(s) raspberries
1/4 cup(s) sugar
3 cup(s) seltzer
1 lemon, sliced 1/4 inch thick (optional)
1 vanilla bean, split, seeds scraped, pod reserved; or 1/2 teaspoon pure vanilla extract
Lemon wedges, for serving
---
Directions
Combine raspberries, sliced lemon (if using), vanilla bean, and sugar in a double boiler or heatproof bowl set over a pan of simmering water. Cook, stirring, until raspberries have released most of their juices, about 12 minutes.
Strain through a fine sieve, pressing gently with the back of a spoon; discard solids. Let cool. Pour 1/4 cup syrup into each of 3 ice-filled glasses. Top each with 1 cup seltzer. Serve with lemon wedges.
*******************************
Cherry Bombs
Made with grenadine and seltzer, the cherry bomb evokes the Shirley Temple that used to make you feel grown-up.
1 cup(s) grenadine
1 liter(s) clear citrus soda or seltzer
18 maraschino cherries
---
Directions
Place 2 cups water in a medium saucepan, and bring to a boil over medium-high heat. Add grenadine; stir to combine. Pour mixture into two ice-cube trays. Freeze until solid, 2 hours or overnight.
Fill six glasses with grenadine ice cubes. Top with soda. Garnish with cherries, and serve.
*****************************************************
The above recipes were taken from www.delish.com.  If you have a favorite red drink recipe, send it to us and we might be able to use it in a blog post!
Related posts: