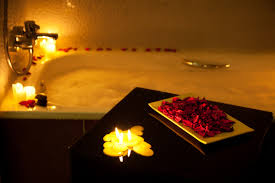 Romantic Weekend Getaways, Romantic Hotels, Adult Hotels, Romance packages…..when you think of these places what thoughts comes to mind? Seclusion? Candlelit dinners by a fireplace? Jacuzzi tubs full of bubbles? A bottle of wine shared with your love on your private patio? A stroll, hand in hand with the one you love, through gardens overflowing with flowers and foliage….How about sharing your hopes, dreams, visions of the future, while sitting next to each other in a gazebo outlined by twinkling lights?
What if you could find all of the above in one location? When you book your reservation with us at Lazy Cloud, that is exactly what you find.  Let's face it, we are all busy;between work, the kids, car pools, after school sports, church and more, it's easy to lose focus on each other as we race from task to another.   Isn't it time to put "reality" on hold for a weekend and take a Romantic Weekend away with the one you love?
We  have listed 5 benefits of Romantic Weekend Getaways, as taken from www.yourtango.com
1. It allows for reconnection. Quality time together is essential for keeping romance alive in a relationship. A romantic getaway slows you both down and allows you to step out of the daily rat race. You can then move at the same tempo. You have time to talk and share what's important to each of you.
Conversation is at a whole new level of intimacy when you're holding hands while strolling along a moonlit beach or sharing a glass of wine at the swim-up bar.
2. It lets you two be romantic. Sharing a few days together creating lasting memories is money well spent. The gifts of time, love and care are some of the most meaningful gifts you can give to your significant other.
3. It can pull at your heartstrings. There are many things that you can do to make your love life better. A romantic getaway, however, is the best way to break into your mate's heart and lower their inhibitions. Your sweetie is more relaxed away from home without the pressure of daily responsibilities.
4. It will rekindle your passion. Sometimes, the daily grind of life does not leave much energy for a night of passion. A romantic getaway provides the opportunity to enjoy each other anytime of day or all day. Sharing breakfast in bed, swimming together at the pool and a candlelight bath in the in-room Jacuzzi are a few ways to rekindle the passion.
5. It'll give you time to have hot sex. Yep, I said it. As long as those "sparks" of romance are flickering, a little time away just might be the ticket to create a full-blown, three-alarm fire.
So call 262-275-3322 to book your reservation for a romantic weekend getaway at Lazy Cloud in Lake Geneva, Wisconsin now!!
Related posts: