Ever wonder about what the secrets of happy couples?
Well, the other day while driving in the car, I had the radio on and the John Tesh happened to be on.  On occasion, if the topic is interesting, I will do my best to listen.  The topic was on happiness, and what makes some couples happier than others.
At Lazy Cloud we try and ask why people are visiting with  us…it is a birthday? a getaway? or an anniversary?  I will share that Anniversaries always make us smile because we have had some guests visit with us who have been married over 40+ years, and in these days, that is indeed an amazing testament to their love and commitment to each other.
One of the things we like to ask our anniversary couples, especially the ones who have been married for more than a decade or so is "So what's the secret to a long and happy marriage?"   More often than not, they are willing to share with us some of their secrets on a long lasting marriage.  You know what we found out by asking this question to our couples?  The ones who have been married the longest, all share pretty much the "same secrets".
What are those secrets?  Well because we believe in romance and enduring love, we thought we would share those secrets with you…..When you visit with us, if you have any others to share that we didn't mention, let us know!!!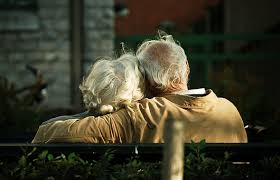 1. They laugh together .  Couples who can laugh with and even at each other without the other one getting all huffy about it, tend to stay together, and be happy together. Laughter is good for all of us, and when you can laugh together, even over things that are going wrong at the moment, it  shows that you can weather the storms of life.
2.  They stay positive. Positive behaviors are generally humor (see above), sharing and caring for each other.  They are genuinely happy when the other succeeds in a project or job, and have no problem expressing that emotion.
3. They share similar goals, habits and hobbies. It really is true that "birds of a feather, flock together".  Most couples who share the same path in life and like the path they are on, tend to be happier.   Opposites may attract, but in many cases that attraction is fleeting.
4. They enjoy each others company. Most of our couples have shared that while they have a network of other friends and even on occasion different hobbies, they still enjoy spending the majority of their time with each other.
5. They have "pet" names or "nick" names for each other. They don't have to be silly ones like Biff or Bambi, (but they could be!)  but names that show you share an intimacy and life together.  Do you remember Zig Ziglar?  He always referred to his wife as "The Red Head" or "Sugar Baby!"   Who doesn't want to be someone's Sugar Baby and have the whole world know it?
6. They argue and disagree...But they do it in a fair way! Their goal is reach a solution to the problem, not to have a "winner" in the battle.
7. They show daily acts of kindness to love and appreciation for each other. If you live in the Midwest, you know we were hammered by snow and cold and ice, and had miserable winter!  Do you park on the street?  Did your spouse ever just go out to make sure your car was cleaned off so you didn't have to do it in the morning?  Or have you been on your way home, and passed a bakery and thought "hmmm…he loves chocolate chip cookies, I will stop and get those for him to surprise him with?"  It is these acts of kindness and love done on a daily basis that keep each other happy and together.
8. They celebrate their love. Whether it is by going away or simply honoring the day of their anniversary, they make sure to celebrate their love and marriage.
So what do you think? Are you doing any of these already? Are there some you need to work on? Do you need to do more celebration? Here's a thought…..why not give us a call today at 262-275-3322, book a suite, and take your loved one away for a romantic getaway!
But on this getaway we would like you to really spend some time looking at this list and vowing to each other to add these items to your relationship so that in another 30 years or so, when you visit with us and we say "So what's the secret to a long lasting relationship?"  you can tell us all about the weekend you shared at Lazy Cloud and your vow to stay together for the long haul!
Lazy Cloud offers premier lodging for your romantic getaway in Wisconsin. We cater to couples and our B & B and small hotel provide wonderful amenities with luxurious jacuzzis for two and fireplaces in every suite and room.   We are located in southeastern Wisconsin – only 90 minutes from Chicago and an hour from Milwaukee & Madison.
Related posts: