Small Business Saturday showcases the small businesses that are the heartbeat of our communities.  Each one of us that owns a small businesses creates jobs for our communities, and help keep our economy going.  It takes hard work, courage, and a hefty dose of chutzpah to become a small business owner.  And this year, you can support your locally owned small business by taking part in Small Business Saturday, which will be held on November 30th.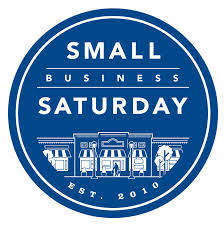 Small Business Saturday is an American shopping holiday held on the Saturday after Thanksgiving during one of the busiest shopping periods of the year. First observed on November 27, 2010, it is a counterpart to Black Friday and Cyber Monday, which feature big box retail and e-commerce stores respectively. By contrast, Small Business Saturday encourages holiday shoppers to patronize brick and mortar businesses that are small and local. In 2010 the holiday was conceived and promoted by American Express via a nationwide radio and television advertising campaign
If you are in the Lake Geneva area that day and if you have an American Express card, you can head to Small Business Saturday and learn how to register your card to receive a $10.00 credit on your statement by shopping at a small locally owned business on November 30th.
With all the unique stores, and all the unique gifts, and knowing that you are supporting a locally owned small business, wouldn't it be great to start a new tradition and head to Lake Geneva for the weekend following Thanksgiving?  Need a place to stay?  I know another locally owned small business that would love to welcome you!
Skip the malls and skip the stress that shopping for the holidays can bring,  instead  this year head to Lake Geneva for a romantic getaway, find some great eclectic gifts for those on your Christmas list, and support locally owned businesses all at the same time.   What a great way to start the holiday season supporting Small Business Saturday!
Related posts: