Spring Vacation time is upon us…
What a wonderful time to take your special lady away for a weekend. Why fight all the crowds in town or wait until summer and fight through hordes of people when you can start now making plans for a special weekend away?
The leaves on the low hanging branches are beginning to turn green, flowers a budding and song birds are singing. The smell of a freshly mown lawn and the new blossoms drift through the window. These are the eye openers as I wake up after a restful night's sleep at the Lazy Cloud at Lake Geneva, WI.  I roll over and kiss my sweetheart before climbing out of bed and walking to the window to enjoy the beauty as the sun fills the room and the warmth encompasses your body like a glove.
The day is so beautiful I am torn between wanting to just sit in the garden and explore the town. On one hand I am excited to go down to the lake, maybe get on a touring boat. On the other hand I would really love to just lounge around in my PJs all day and enjoy the sounds and scents of the spring time. We will be there a few days so maybe today we can just relax, unwind from the last few busy months and tomorrow we can make a day of seeing the sights outside my cozy little corner of the world.
I took my darling wife by the hand after we showered and made ourselves presentable, and go down to have breakfast with the other guests. It's a nice group staying here. We chat over coffee and Danishes before heading out to the gardens to just walk and enjoy the fresh crisp air. At breakfast we met a doctor, a truck driver, a retail store manager and just a wonderful blend of people from all walks of life.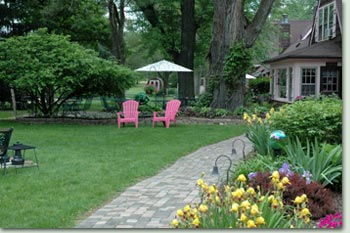 This romantic Lake Geneva Bed and Breakfast has been welcoming guests for 25 years for a spring vacation.
Having made the decision to relax that day, we use some of that time to see what there is to do the other days. It looks like shopping has made it onto the list, accompanied by a historical sites tour. I would really enjoy going out on a boat on the lake for a day or at least a few hours, that always brings me peace. I will make it a point.
Looking back on the weeks leading up to my spring vacation, I had considered just staying home. It had also crossed my mind to go as far away as possible also but that thought was quickly snubbed when I thought of the logistics involved in a long distance trip. It would have eaten up way too much time to drive, and planning a flight could be too costly on short notice so this was the very best idea, a ninety minute drive to Lake Geneva.
Why would I want to stay cooped up at home or travel half way across the country to get away when I can spend a weekend or a week in Lake Geneva? At the lake I can relax in a comfortable hotel or bed and breakfast with the knowledge that when it is time to go home, the drive won't drain all my energy like a flight or a road trip. I sat there just day dreaming about how wonderful a time we had on our little Spring Vacation at Lake Geneva.
We have been on a spring vacation and weekend getaways in the past and since that trip out to Lake Geneva and Lazy Cloud but none really capture the ambiance, the uniqueness we found there. Where else could we wake up to the smell of spring drifting into our room?  Where else could we wake up and feel as comfortable as if we were at home?  Of all our vacations, mini or extended, none has given us the complete feeling of letting go as what we experienced there. I can't wait to go again.
Spring Vacation – here I come!!
Related posts: