Stone Grotto Suite
Lake Geneva lodging at the Lazy Cloud, an anniversary inn, sets the stage for many anniversary getaways to come!
Hailed as "Best Place for a Honeymoon / Anniversary" by Arrington's Bed and Breakfast Journal, our anniversary inn of romantic suites will help you discover magic in your marriage for years to come!
Remind your sweetheart of the day when the two of you became one, as you share time together in the Stone Grotto in Lake Geneva WI by making reservations for lodging at an anniversary inn!
The Stone Grotto Suite boasts a spectacular split fieldstone fireplace as well as an arch framing the entrance to the whirlpool. An oval mirror on the back wall reflects a warm glow where ideas of romance can flourish.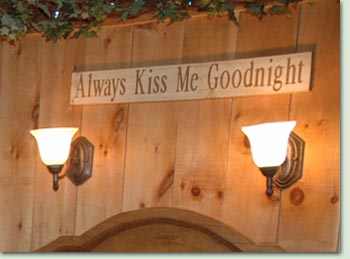 The king-sized bed featuring a carved wood headboard has a sign above it that reads "Always Kiss Me Goodnight."
The overhead canopy features intertwined ivy, purple grapes and white mini-lights.
The private bathroom is done in shades of purple with old postcards and flowers cleverly decoupaged on the walls. The double-Dutch wooden door provides privacy.
The impressive handmade mantel over the fieldstone fireplace can be viewed from any angle in the room and will stimulate romantic ideas and start them sizzling.
The brown leather love seat is the perfect romantic place to share dreams of past, present and future anniversaries.
Check to see what we are serving for our continental breakfast and what other amenities are provided.  Also please review our deposit, cancellation, refund and other policies.
An anniversary inn is an inn the will make your anniversary special!
Look for lodging at an inn that has a cozy fireplace, a double whirlpool and a canopy bed for starters…an inn that has lots of candles, that will give you a bottle of wine and bubble bath for your whirlpool… an inn that can help you set up a great place for dinner or relaxing massages.
This is what makes an inn an anniversary inn. This Lake Geneva lodging has all the romantic amenities to make your anniversary simply fantastic!!