Tiffany Garden Suite
Lazy Cloud, a romantic Bed and Breakfast, has been owned for more than twenty-five years by Carol Tiffany!
What could be more romantic than "Breakfast at Tiffany's"?  A romantic breakfast at our bed and breakfast inn is guaranteed 365 days a year!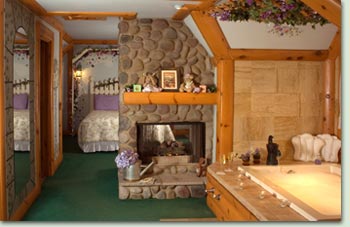 The Tiffany Garden Suite at our Bed and Breakfast Inn is decorated as a country garden, complete with lilacs, sweet peas and pansies scattered throughout the suite. With hunter green carpeting and spring-themed stenciling, this suite will sing spring!
The Tiffany Garden Suite features a lovely sitting room and a bedroom separated by a gorgeous see-thru fieldstone fireplace. Your crackling fire can be viewed from anywhere in the suite!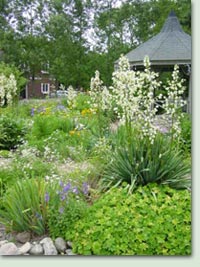 The 2 story bed and breakfast inn allows this second floor suite to gather the warm sunshine as it streams through the many windows.
No garden is complete without a cute bunny, of which there are several! Packets of flower seeds are found in many different places in the suite including all the light switch plates. The dining area and the comfortable daybed are done in old-fashioned white wicker.
Our bed and breakfast inn's garden suite wouldn't be complete without a picket fence gracing the headboard of the queen size bed.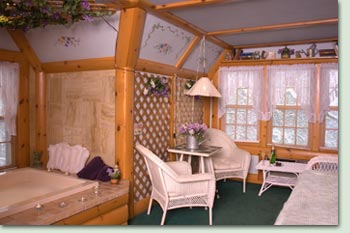 Wooden lattice work forms an arch over the bed and is twined with miniature white lights, lilacs and ivy. Additional latticework is stenciled above the headboard with springtime sweet peas climbing toward the sunshine! A large birdhouse with climbing ivy welcomes returning garden friends and is painted on one of the walls. Romantic use of outdoor garden lights creates soft lighting at any time of the day or night.
Check to see what we are serving for breakfast and what other amenities are provided.  Also please review our deposit, cancellation, refund and other policies.
The Lazy Cloud's owners have created a lovely garden suite at this bed and breakfast inn that will bring spring to you any day of the year!