We put together a  "Top 5 Things To Do in The Lake Geneva Area" for you to do while in town.
One of the frequent questions the Innkeepers at Lazy Cloud are asked is "What should we do while in the area, besides shopping?"    So we thought you may have wondered about the same thing.  We should emphasize this is just a small list of all the many things you can do in the area.
Take a Boat Ride
Plan on touring the lake aboard one of Lake Geneva Cruise Lines many  historic boats.  From the famous mailboat tour to a scenic full lake tour, you are sure to find just the right cruise to get up close and personal with Geneva Lake and the historic mansions that surround it.
Hit the Links
If golf is your passion, then you are in the right place.  There are several different golf courses to play on in the Lake Geneva area.  From par 3 executive courses to tournament quality courses, there is a course in our area sure to please you.
Museum Hopping
You don't need a rainy day to visit one of the many museums in our area!  From the Geneva Lake Area Museum to the Webster House in Elkhorn, to the Historical Society in Delavan, there are enough museums to immerse you in the local history of the area, and make you feel like an insider.
Take a Stroll
Sometimes the best part of being away is doing things you don't normally do at home.  Sometimes a walk is all you need…in addition to being good for you, it is a great way for couples to reconnect with each other.  When it comes to taking a walk you have a lot of options depending on how far you want to travel.  For some, it may be just nice to stroll down many of the quaint streets in the downtown Lake Geneva area.  For others, it might mean a nice hike in Big Foot Beach Park.
For the truly adventurous perhaps it is a planned hike to walk the entire 21 mile lake path that circles Geneva Lake.   When it comes to taking a walk, the only constraints will be on your time and how far you want to travel.
See the Horses Dance
One of the hidden crown jewels in the Lake Geneva area is The Dancing Horse Theatre in Delavan, WI.  This Las Vegas like show features multiple horses and trainers performing in perfect orchestration.   The show is performed in a small and intimate 300 seat theatre, that makes every seat the BEST seat in the house.
There you have just a small list of all the things you can do while visiting our area.  Of course, our favorite way to spend time in the area is to have folks come up for a couple of days at a time so that they get a chance to complete the list above.  If you agree with us that a couple of days away to the Lake Geneva area is just what the doctor ordered, then give us a call at 262-275-3322 to book your suite today.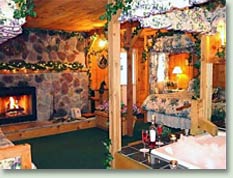 Lazy Cloud offers premier Lake Geneva lodging for couples looking for romantic getaways in Wisconsin.  We are one of the few Lake Geneva hotels with jacuzzi in room for two. Our bed and breakfast in Lake Geneva, WI provides wonderful amenities with whirlpools for two that have a view of the fireplace in every suite and room. Because we offer this, we are a great place for honeymoon getaways. We are located in southeastern Wisconsin – only 90 minutes from Chicago and an hour from Milwaukee & Madison.
Related posts: