When most couples think about where to go on honeymoon, the Midwest part of the country is not what first comes to mind. But once you check out our top ten Midwest honeymoon destinations, you may just change your mind about heading to the East or West Coast and instead head to the middle part of the country.
Our thanks to Midwest Living for portions of the list.
#1. Galena, Illinois
Inn at Irish Hollow (pictured) Fireplaces, whirlpools, hot tubs and a gourmet breakfast will pamper you in the luxurious accommodations at this inn. Choose from five private guest houses or three rooms in the main inn. Guests can also opt for a seven-course candlelit dinner. Hiking (and in season, skiing) trails beckon those who want to explore nature, and nearby Galena holds many attractions as well. (815) 777-6000 www.irishhollow.com
Eagle Ridge Resort and Spa There are plenty of reasons to plan a trip to Eagle Ridge. You arrive to chocolates, a long-stem rose and champagne. Outdoorsy types can choose horseback riding, hiking, biking and then relaxing in the spa. On-site dining and other amenities mean you wouldn't have to leave Eagle Ridge; it would be a shame, though, to pass up the chance to browse in nearby historic Galena. (800) 892-2269; www.eagleridge.com
#2. Mishawaka, Indiana
Beiger Mansion……A solarium, an outdoor pool and a workout room might eventually pull you away from the sleigh bed, the layers of pillows and custom-made bathrobes at this neoclassical limestone home. (800) 437-0131 www.beigermansion.com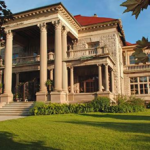 #3. Kohler, Wisconsin
The American Club Resort… Celebrate or retreat at this five-star resort. The star of the luxurious rooms is the bed, plush with pillows and draped with a down comforter and Italian sheets. Spa services, meals and special touches make for romance. (800) 344-2838; www.americanclubresort.com
#4. Lawrence, Kansas
The Eldridge (pictured) Stay in one of the 48 suites at this historic hotel, established in 1925. Have a romantic dinner at Ten restaurant or The Jayhawker bar, which serves more than 35 kinds of martinis. (800) 527-0909; www.eldridgehotel.com
The Oread New in 2010, the KU campus spot boasts gracious accommodations, a spa and on-site fine dining. Sip champagne and nibble on strawberries in your room then indulge in a massage
#5.Kansas City, Missouri
Hotel Phillips (pictured) This Art Deco hotel was renovated in 2001 but kept its original 1931 design. Sweeping twin staircases and marble floors lead to comfortably elegant rooms. Check the website for romance packages that include wine, chocolates, flowers and more. (877) 704-5341; www.hotelphillips.com
Raphael Comfort, service and convenience are the watchwords at this rejuvenated boutique hotel in the middle of K.C.'s upscale Country Club Plaza shopping district. You can expect just the right amount of pampering at the recently renovated Raphael; from the moment the valet takes your keys until the end of the day, when you discover the chocolate chip cookies that accompany the turndown service. Rendezvous for dinner at Chaz on the Plaza for a romantic dinner
#6.Nebraska City, Nebraska
Lied Lodge …..Just the two of you will be coddled while surrounded by natural beauty at this resort owned and operated by the Arbor Day Foundation. Plush and comfy rooms invite you to settle in for an anniversary package, which includes dinner.
#7.Indianapolis, Indiana
The Alexander….Let's say you're hip. Or want to be. Then it's time to check out this boxy glass boutique hotel with a super friendly staff and a colorful bar near the mod lobby. The 209 sumptuous rooms and suites—many with featherbeds and granite counters—come with Keurig coffee makers and motion-sensor lighting. (317) 624-8200; www.thealexander.com
#8.Cincinnati, Ohio
Cincinnatian Hotel ….The stylish Cincinnatian Hotel makes an excellent base for a romantic getaway. Book dinner at the renovated 1890s hotel's Palace restaurant or the newer Jean-Robert's Table. Or indulge in room service, popcorn and a movie and never leave your room. (800) 942-9000;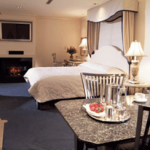 #9. Chicago, Illinois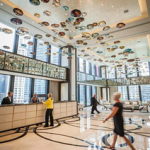 The Langham Chicago (pictured) Impeccable service begins when a Chanel-suited staff member greets you in the Mies van der Rohe skyscraper in River North. Fine art graces the walls, and the 316 guest rooms (complete with marble baths and rain showers) are some of the most spacious in the city. Take your stay to the next level with the River North Romance package, which includes complimentary champagne, breakfast for two and discounts at luxe Chuan Spa. (312) 923-9988; www.chicago.langhamhotels.com
Waldorf-Astoria Chicago It's a boutique hotel that, frankly, doesn't feel like a hotel. And it's a thoughtful place to settle in with that special someone. Rooms boast plush king beds and amazing bathrooms that come standard with mosaic-tiled walk-in shower and a deep soaking tub; many rooms have gas fireplaces and balconies. Dine at Balsan, a classy European-style bistro highlighting the region's finest flavors. (312) 646-1300; www.waldorfastoria.com
#10. Lake Geneva, WI
Lazy Cloud Lodge….We saved the best for last! We are located on the west end of Geneva Lake in the lakeside village of Fontana, WI. All of our accommodations at the bed and breakfast are decorated in an individual theme with a whirlpool for two, fireplace, queen bed and a daybed or love seat for lounging and a small dining area for two. 262-275-3322 www.lazycloud.com
There you have our Top Ten list of truly romantic destinations in the Midwest….because it will be hard to choose just one, we suggest you make a master list and visit each destination at least once. Unless you are visiting Lazy Cloud…we suggest you visit with us more often!
Related posts: