Yes, the winter cold has us all wanting to cuddle, to hide away with someone special and get warm together and there is no better place to do just that than up at Lake Geneva, WI. You can find virtually any style of getaway you want in Lake Geneva, and best of all; it is less than two hours away. How can you possibly beat that?
Imagine this for a moment. It's cold out; it's been a long week and even longer year. The two of you have had very little time together just relaxing and getting to know one another again because the holidays have been so hectic between visits to both parents' homes, the nephews and nieces running all over underfoot, the office parties, and all the general rush of the season. If only you could find a way to get away from it all, just the two of you, if even for a weekend, relax, and rediscover each other.
I am here to tell you, you can do just that. It's no secret, it is not exclusive, and it is only an hour and a half away. Make plans now; set your sights for wonderful Valentine's Day Getaways near Chicago. Take the short trip to Lake Geneva.
As you read this you may be thinking to yourself, why would I drive ninety minutes to a hotel when there are at least a hundred within maybe thirty minutes? Why would I want to deal with that drive when I can just stay home, save the money, order pizza, and grab a bottle of wine? I am going to tell you why, and when I am done, I believe you will be convinced this is a plan for you.
I used to think the same way; I am somewhat of a tightwad. I spend money only on necessities usually. I do not believe in waste in any form so when my wife approached me with the idea of getting away for a weekend I had the same thought process. Let's stay home, relax on the sofa, save the money, and order delivery for supper. I just didn't see myself spending time and money to drive ninety minutes or even twenty minutes to stay in a hotel when I have a very comfortable bed and sofa at home. Besides, I have a very busy career, I had no time for getaways, I need to be available any time they need me. That was my way of thinking.  What about the store? What about my workouts? I thought.
She talked me into it, she convinced me that a getting away for at least one weekend would be a good idea so, grudgingly with stomping feet, I went. The drive was nice, once we got out of traffic. I started to unwind. I manage a retail store so my stress level can be pretty high but I was starting to calm down. She had made the reservations so I had no idea where we were going, only that it was not too far away and it had some really nice amenities.
Lake Geneva, WI, what a very lovely place for Valentine's Day Getaways near Chicago. The quaint little town has so much to offer, from great restaurants, one of kind shops, wonderful views of the lake, to the most impressive five star resorts. I, however, am more of a country boy and I prefer something along the lines of a Bed and Breakfast Inn.
True to form, the Lazy Cloud looks like a house when you first arrive in the driveway. You may get the impression you are visiting family. The front lawn itself is just so inviting, makes you long for the days when you were young, out climbing trees and playing tag or football with your friends. Here you get a very real feeling of being welcome and home. Now, back to my story and the amenities; the room was cozy, a queen bed with a old style quilt and a large whirlpool tub built for two was located across from the fireplace. The patio looked out on a gazebo and a flower garden (or it was probably a flower garden, right now it was covered with snow). I can truly say I was feeling a little more relaxed already and letting go of my tight fists.
My wife had it planned out fairly well. She knows the things we both enjoy and those I like so she made sure to accommodate both our needs. First we headed out to a steak restaurant where the service was designed for guest pleasure, and the steak was incredible. Then we took a walk, hand in hand, along the lake just to enjoy the brisk night air and the breeze coming off the water. We ended the evening with a long, and truly needed soak in the whirlpool tub in our room. With the fire going low and the silence of no city noises it was absolutely, indescribably enjoyable.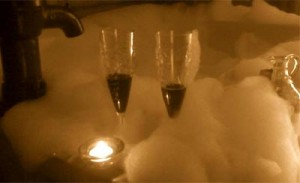 Enjoy a Valentine's Day Getaways near Chicago – try Lake Geneva to spend time your Sweetheart!
In the morning I woke once, early, and then went back to sleep when it dawned on me I was not going to work or to the gym. It was refreshing to sleep a little late for once. When we finally decided it was time to get up, the first thing we did was sit in that wonderful hot tub. I couldn't get enough, it was just so relaxing. The Lazy Cloud Bed and Breakfast in Lake Geneva is such a wonderful place for Valentine's Day Getaways near Chicago. Carol and her staff will make you feel so relaxed, you won't want to leave your room or the place, ever.
That evening we went out for a drink and dinner at a nice family owned local place. The food was delicious and service was excellent. It had been so long since I just relaxed I could barely remember how but it was coming back to me. Lake Geneva is so inviting at just ninety minutes from Chicago, I don't see why anyone would not want to take the short drive for a weekend.
It is my opinion, after having spent countless nights in as many resorts and hotels around the United States, Lake Geneva, WI ranks right up there with any town or city in the country in its offering to visitors.
Your best, most romantic Valentine's Day Getaways near Chicago await you at Lake Geneva.
Related posts: