Vegetarian restaurants in Lake Geneva are not very well known.  When we are taking reservations at Lazy Cloud, on occasion we will hear  "I am a vegetarian….where do you suggest I eat, while staying with you?".   So with that thought in mind, we thought we would put together a list of about 5  restaurants in the area.  This list is by no means comprehensive, but instead just a general idea of some of the different places you are likely to get a great, even gourmet vegetarian meal while staying with us at Lazy Cloud.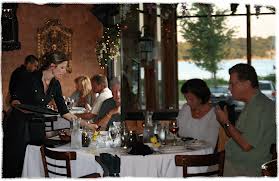 If you are staying at the Bed & Breakfast and don't want to head back into Lake Geneva, you need look no further than Cafe Calamari.  Cafe Calamari, a landmark in the area for over a decade provides excellent cuisine with exceptional first class service.  Though Cafe Calamari offers a wide selection of menu items that are non-vegetarian, you will certainly be able to dine well from the appetizer to the entree while keeping to a vegetarian diet.

Another relatively new but very popular dining spot in Williams Bay, is Pier 290 .  PIER 290 Restaurant is a uniquely American restaurant focused on clean flavors, fresh ingredients. Their  progressive menus will ensure that you will find several vegetarian dishes to choose from.   Did we mention this restaurant sits on the lake and offers amazing views while you dine?
In the event you want to head to Lake Geneva and have dinner there, then you have several places to choose from that will fit the bill when it comes to offering vegetarian fare.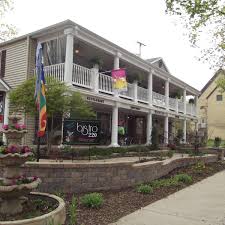 Bistro 22o is located on Cook Street in the heart of  Downtown Lake Geneva.  Depending upon the season you can enjoy their outdoor seating with lake views while you watch the hustle and bustle of the the downtown shoppers as you partake in one of their great menu items.  And while not solely vegetarian, their menu has enough on there  to satisfy your vegetarian diet.
Baker House isn't simply a place to dine as much as it is a place to experience.  Situated on the East shore of Geneva Lake with the only downtown lakefront lawn, you are offered front row seats to the most spectacular sunsets in all of the area. Instead of traditional restaurant seating, guests are served throughout the first floor of the mansion in decadently furnished parlors on plush wing backed chairs and fireside overstuffed couches.  From their warm pretzel bites with Wisconsin cheddar dip, to their stuffed cremini mushroom sliders to their roasted autumn vegetable plate, you will find that there is something that their menu caters to the gourmet vegetarian in you.

And in case you just want something a bit more "simpler", then you have to head over to Simple Cafe.  Serving only breakfast and lunch, Simple Cafe takes pride in their commitment of offering locally grown seasonal ingredients and taking those ingredients and creating  inventive twists on familiar foods. With their creative and unique menu, the only problem you will have is narrowing down your menu selection to just one thing.
These are just a few of the many dining choices you will have when you stay at a Lake Geneva hotel.   Book your reservation with us today at 262-275-3322 and sample one of these Lake Geneva vegetarian restaurants for yourself.
Related posts: