The Walworth County Fair keeps running through my mind, probably because today feels like fall in Lake Geneva, which serves as a reminder that all good things eventually come to an end, even this great summer we are having. 
However before summer "officially" ends, there is one last activity to complete on your Lake Geneva Summer Bucket List.
That activity is of course, visiting the Walworth County  Fair.  The theme for this year is "We're still having fun, 4-H is still the one", as Walworth County celebrates 100 years of 4-H in the county.
This year marks the 165th anniversary of this not to be missed event!   This annual event is held every year over the Labor Day Weekend at the Walworth County Fairgrounds in Elkhorn, WI
And NOPE, that isn't a typo in the above paragraph, the Walworth County Fair has been going strong for 165 years.  We did a bit of research and found some interesting history about this long running fair.
History of the Walworth County Fair
The constitution of the Walworth County Agricultural Society was adopted April 28, 1842.
The first annual fair and cattle show of which we have any record was held in the Village of East Troy on October 16, 1850. A total of 35 first premiums, 17 second premiums and 3 third premiums were given at that time.
The first County Fair held in Elkhorn was in 1851, and again in 1852, in the block southwest of the City Park. In 1853 the fair site was moved to Delavan but returned to Elkhorn in 1854. In 1855, the first purchase of land, from Colonel Edward Elderkin, was made consisting of six acres within the Village of Elkhorn limits. The cost was $100.00 an acre with 10% interest, a high price for the time. The city of Elkhorn donated $300.00 to fence the land, erect pens and sheds and to dig wells. The fair site has remained in Elkhorn since 1855 on this same location.
Many visitors of the Fair at that time came by train. At one time, there were 19 Special Trains which unloaded daily and left again each evening after the races from the fairgrounds. They came from Libertyville, Rockford, Freeport, Walworth, Beloit, Madison, Janesville, Milwaukee and Waukesha.
1933 was the beginning of night shows like the WLS entertainers, at the Walworth County Fair. 1933 also marked the 1st year that the Fair opened on Sunday.
Today, the acreage owned by the Association is approximately 99 acres. The land and buildings are now valued in excess of one million dollars. During its existence the Fair has received the support of the entire community. This support is shown by the gradual increase in its receipts. The increase in interest taken in the Fair has been proportional to the increase in receipts, and the success with which the Fair has been due not only to the solid foundation upon which it was laid, but also the united support all members, regardless of their social position, political views, or creed.
If you weren't able to attend your local state fair, (or even if you did but just didn't get your fill of all the fair activities to do),  then you have to head to the Walworth County Fair this Labor Day Weekend.  You will be able to get your fill of music, country to rock, and from bucking broncos to crashing cars and lots more in between.
This year's line-up of entertainment includes Trace Adkins, Little Big Town and Foreigner.  Our very own Megan Ruger will open for Foreigner on Sunday, August 31.
We shared the history and some of the musical line-ups, but let's talk food now!  Cream Puffs (that alone is reason enough to head to the fair!) sold out of a bright pink food truck, pickles on a stick, chicken and biscuits provided by LaGrange Methodist Church, as well as Greek and Italian Food.
And when it comes to shopping, you will be able to indulge in that sensory experience as well by visiting the Walworth County Fair Farmers Market and Old World Artisan Village.
If you are beginning to think that this is definitely an item to add and cross off of your Lake Geneva Summer Bucket List, then make plans now to attend this local tradition.   For a complete line up of all events as well as fair times and admission, head to Walworth County Fair.
Now of course after spending the day eating, shopping, and being entertained, you surely don't want to drive all the way home, do you?  Of course not!
Give our Lake Geneva Bed and Breakfast a call at 262-275-3322 to book your suite today; and then when you are done with the fair, you will have only a short drive to Lazy Cloud, where you will find a bottle of champagne, some chocolate covered strawberries and a whirlpool for two waiting for you!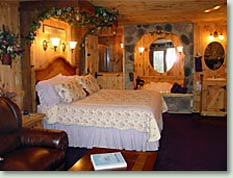 Lazy Cloud offers premier Lake Geneva lodging for couples looking for a romantic getaway.  We are one of the few Lake Geneva hotels with jacuzzi in room for two. Our bed and breakfast in Lake Geneva, WI provides wonderful amenities with whirlpools for two that have a view of the fireplace in every suite and room. Because we offer this, we are a great place for honeymoon getaways.   We are located in southeastern Wisconsin – only 90 minutes from Chicago and an hour from Milwaukee & Madison.
So come and enjoy Walworth County Fair and then head to Lazy Cloud!
Related posts: