Vow Renewals
"Still the One", our Vow Renewal Package
"Once before I have stood with you, before family and friends;
once again I take your hand as my partner. I take you this day and for all days."
Still the One, our vow renewal package, is a wonderful way for you to renew vows  to further deepen your love and commitment to one another.
Allow us to provide you with an opportunity to pause and reflect on where you have been and where you are going. The Still the One vow renewal package in Lake Geneva WI includes:
A list of Walworth County Wisconsin judges and clergy ; however, it is not necessary to have them officiate your ceremony
An early check-in of 12:30 so the she can freshen up
A clutch bouquet of fresh flowers for her
A boutonniere for him
Ballatore's Gran Spumante with Chambord (a raspberry liqueur) for the wedding toast
An anniversary wedding cake with a personalized message and icing flowers
A CD player is provided for your music
Leisurely breakfast in bed the following morning! (available at our Bed and Breakfast only)
And, best of all, no stress!!
The two of you, the officiant, plus—
1-6 Guests  –  $650.00   (plus the cost of your suite or room)
7-13 Guests – $750.00  (plus the cost of your suite or room)
(up to 5 additional guests $15.00 per person)
Saturday or Sunday Vow Renewals are an additional $150.
Holidays and holiday weekend vow renewals are an additional $250.
You may also use any of our other wedding packages for your vow renewal. The pricing structure would be the same wedding prices.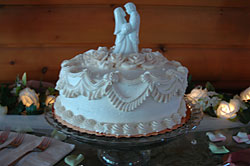 To enhance your vow renewal, stay an additional night and request a Relaxation Package.  This includes two one-hour massages performed one after the other and a delicious picnic basket dinner with mesquite-smoked turkey and smoked pit ham for $199.00 plus the cost of your suite (or request the picnic basket dinner with barbecue ribs for $209.00 plus the cost of your suite).