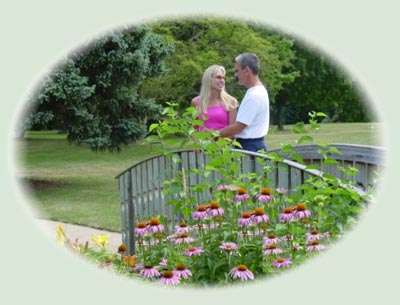 Weekend Getaways for Couples are all about Romance!
Weekend getaways for couples have been the specialty of Lazy Cloud for over two decades!
Romance is their specialty! It's at Lazy Cloud of Lake Geneva Wisconsin that you'll find every detail taken care of and where romantic weekend getaways for couples happen every day!!
Discover that every luxurious suite has been designed with romance in mind!  A beautiful rustic theme exists in every one of the suites, each with a gorgeous fireplace and double whirlpool!  Light the tea candles we have provided and fill your double whirlpool with glorious raspberry scented bubbles.  Toast each other with a complimentary bottle of wine or champagne and feel the soothing waters!  Enjoy the ambiance of having your whirlpool set before the fireplace.  The weekend getaways for couples have just begun!
Delectable raspberry meltaways will make a daily appearance along with a delicious continental breakfast.  Lazy Cloud Bed & Breakfast serves a delicious extended continental breakfast of  "hot, out of the oven" sticky buns, pastry, fresh fruit, homemade granola and waffles, fruit and vegetable juices, and piping hot beverages, while the Lazy Cloud Inn features a continental breakfast found in your suite when you arrive… breakfast in bed at any time of the day or night!!
Light your dozen tea candles as they'll shed the perfect light as you explore the "Enchanted Evening Game" which is featured in all of the suites.  It's the game of love, of laughter, of romance, of the richness of sharing… a perfect way to spend these weekend getaways for couples!
Has the sun set, yet?  You just might want to take a glance from your huge private deck or patio!   Many of our suites feature them – complete with dining area and swing or glider.  Once the stars have started twinkling from the heavens, it's time to get cozy and enjoy the evening sights, sounds, and fragrances.   Or, you may want to lay upon one of the double hammocks near the English gardens at our Bed and Breakfast, and enjoy the shooting stars while finding the constellations.   Enjoying a sip of champagne from the garden gazebo under the moonlight is also a romantic rendezvous!
Weekend getaways for couples may not be complete without a relaxing massage – done in-suite, of course!  You may also enjoy dining in the seclusion and privacy of your suite.  We offer a delicious picnic, either ham and turkey or savory ribs brought to your suite at the appointed time!  The dinner is complete, from appetizers and salads to entrée, dessert and beverage!  Thinking of dining elsewhere?  We also offer appetizer baskets and desserts!  Enjoy an appetizer, go out to dinner, and then return to your suite to enjoy dessert!
Lazy Cloud's concierge will be most happy to schedule other activities for you as well…horseback riding or a carriage or sleigh ride, boat excursions, hot air balloon rides, parasailing, make dinner recommendations or reservations,  give directions to bike rentals, golf courses, antique stores, reservations for lift tickets…
Unlike any other Lake Geneva Bed & Breakfast and Inn, the Lazy Cloud caters to weekend getaways for couples …featuring luxurious amenities in a romantic setting, and time alone with the one you love!  Allow us to plan one for you today!
Weekend getaways for couples are our specialty!
Related posts: