Why You Should Take a Lake Geneva Vacation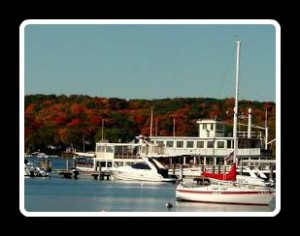 Have you thought about taking a vacation to Lake Geneva or doing a romantic getaway?  If not, Lake Geneva, WI may be just the spot for you!  Among the rolling hills in southeastern Wisconsin, just 10 miles from the Illinois state line, is where you will find us.  The Lake Geneva area centers around Geneva Lake, a 9-mile-long lake lined by historic and contemporary mansions and inns.
Though the town is small, it offers a long list of activities and attractions that make Lake Geneva a year-round destination. The city has specialty shops and galleries, golfing, boating, zip-lining, skiing, kayaking, hiking the Potawatomi Trail, lake cruises and plenty of beaches. When Lake Geneva was established in 1836, it quickly became a destination for wealthy Chicago families and earned its nickname "The Newport of the West."
After the great Chicago fire, more Chicagoans moved their summer homes to Lake Geneva, and many found a permanent residence here. It wasn't until the 1960s that another famous Chicagoan found a place in Lake Geneva — Hugh Hefner chose the city as the home for the nationally acclaimed Playboy Club & Resort, which is now the renovated and reborn Grand Geneva Resort & Spa.
In Lake Geneva, there are a large number of places where you can choose to stay overnight. These overnight accommodations include vacation resorts, traditional hotels, bed and breakfast establishments, and vacation home rentals. All of these locations are perfect for a Lake Geneva Vacation. Whether you are looking to take your own private getaway, take a vacation with the family, or even take a romantic getaway, the above mentioned overnight accommodations can give you exactly what you want. In fact, the choices that you have are just a few of the many reasons why you should at least consider Lake Geneva Vacation. Basically, within reason, you can have just about whatever you want when on a Lake Geneva getaway.
Regardless of the season, the time is always right to visit Lake Geneva.
Related posts: