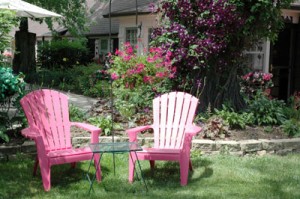 Looking for a Williams Bay, WI bed and breakfast so you can be on the quiet side of Lake Geneva?  Sometimes you just want to get away from all the hustle and bustle of Lake Geneva.  You just want to be where it's peaceful and quiet, and you can enjoy the area with not quite as many people around.  Williams Bay has all the beautiful scenery of the area, the gorgeous views of the lake, and a wonderful beach area where you can swim or dock your boat.
There aren't a lot of shops but there are some nice ones. And one of my favorite restaurants, Cafe Calamari, is located right across the road with great views of Geneva Lake. This is a really good Italian restaurant!
Williams Bay also has a wonderful romantic bed and breakfast, Lazy Cloud, that has a whirlpool for two with a view of the fireplace in every suite and room.  This is the perfect place for a romantic weekend getaway, a honeymoon, or even to give has a special romantic Christmas gift for him or her!
Williams Bay is only a short drive from downtown Lake Geneva.  It is less than ten minutes. With a population of approx. 2,000 is really is just a quiet little town where you can enjoy kicking back and relaxing completely.
Since there aren't a lot of restaurants in Williams Bay, you may want to order our Enchanted Evening Picnic Basket Dinner and have it delivered right to your door!
So give us a call at 262-275-3322 to book your room now at our Williams Bay, WI bed and breakfast!!
Related posts: